A METROPOLITAN LOVE STORY
Nathan & Kayla Shaw
June 11, 2022
Written by | Meg Daniel
Photographer | Christina Zapata Photography

In college, Kayla met Nathan and they quickly became friends. After about a year of friendship, their love bloomed and they dated for four years. Sequiota Park had always been a special place for this couple, enjoying many dates, walks and picnics here. Unbeknownst to Kayla, Nathan had a plan. In cahoots with her best friend, Jena, and her mom, Nathan knew he had to propose to Kayla at Sequiota. Kayla had no clue her life was about to change that day at the park, yet Jena was able to capture the emotional moment Nathan proposed on film. After Kayla said yes, Nathan then proposed to Kayla's six year old daughter, Rosalie, who was bursting with excitement!
For years whenever her family visited Top of the Rock at Big Cedar Lodge, her father would often ask, "wouldn't you want to get married here?" The Chapel of the Ozarks is such a magical setting – the view, the sunset, the cannon. It was the ideal place for these two lovebirds to get married.
When it was time to go dress shopping, Kayla took her mom and Jena to The Dress Bridal Boutique in downtown Springfield. While Mom and Jena found dresses for Kayla to try on, there was only one gown that caught her eye. After she tried the dresses the others had picked for her, she put on her gown and just knew this was "the one," bursting into tears. Nathan chose to wear a dark navy suit and vest from Men's Suit Mart. At the Metropolitan Wedding Expo, Kayla found a dress for Rosalie from David's Bridal that was similar to her gown, just perfect for her daughter.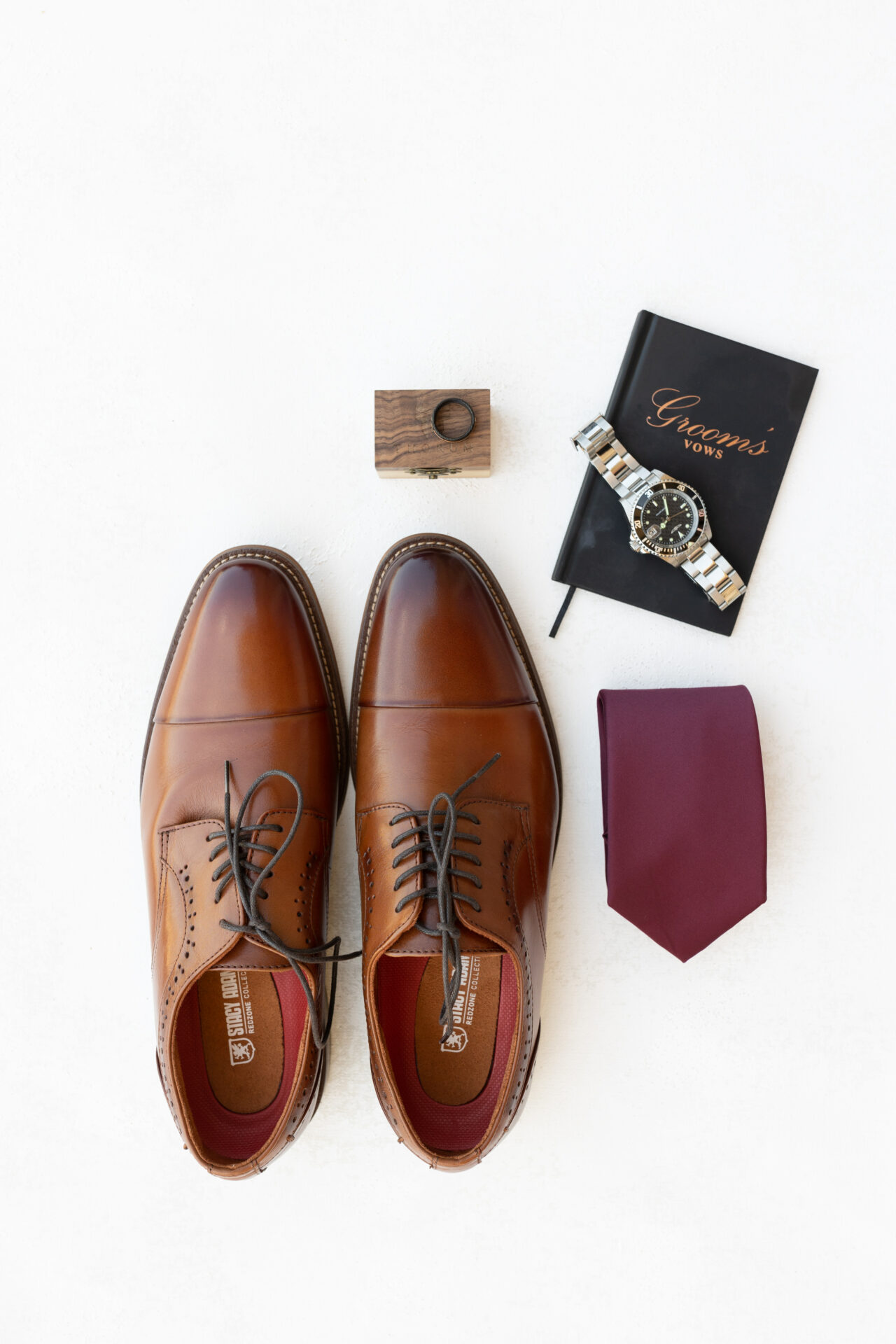 Kayla and Nathan chose to use floral rose colors in their decor using reds, maroons and blues. She worked with her florist, The Nest, and kept the look simple with lots of greenery and a variety of natural roses, adding pops of color. The bridesmaids wore navy and the groomsmen had navy suits with maroon ties, completing the look. Kayla reminisces walking through the reception, the room filled with the fragrance of gorgeous flowers.
Overwhelmed trying to find a photographer, Kayla found Christina Zapata at the Metropolitan Wedding Expo. Christina was so bubbly and easy to talk to, she immediately put Kayla at ease. She loved her photography style. Kayla says, "looking at Christina's portfolio, she not only captures the picture, but she captures the memories as well." And Christina did just that! The Chapel of the Ozarks is just gorgeous at sunset and there is a large cannon they will fire off at the end of the ceremony. Nathan really wanted a photo with the cannon exploding at sunset and Christina was able to capture that memory.
Kayla had a first look with her dad, and got really emotional when she saw him, knowing he has always been there to support and encourage her. The couple also had plans for Kayla's college and professional mentor, Dr. Ferguson, to officiate the ceremony. Yet tragically, he died in a car accident three weeks before the wedding. Thankfully, they were able to use the Greene County Sheriff's chaplain to help them tie the knot.
But seeing Nathan waiting for her at the altar was one of the most emotional moments. Kayla says, "I was replaying all of our memories as I was walking down the aisle and we both were just sobbing." Their ceremony was everything they had dreamed of and then they had a reception at Arnie's Barn at Top of the Rock. The staff at Arnie's Barn made it so easy and seamless with dinner choices and table set up. While everyone was eating their dinner, Kayla and Nathan went ahead and cut their cake, ensuring that dessert was ready for their guests as soon as they finished their meal. While the guests were nibbling on cake, the newlyweds had their first dance. Kayla loved seeing how their two families came together, talking, laughing and problem-solving any issues that came up. Kayla and Nathan wanted to stay until the end of their reception to say goodbye to all their guests, ending their night with a special moment with just the newlyweds and their parents. They were surprised when a close family friend gifted them with a honeymoon suite at a local hotel, then they were off to California for a honeymoon.
Anytime someone asked Kayla what her "Plan B" was if "Plan A" went wrong on wedding day, she would reply, "Just make sure the photographer gets it on film, it will be a great picture moment!" She advises other couples to stay true to who you are. "This is your wedding day and in the end, you are marrying the love of your life. Just enjoy it!" XOXO