A METROPOLITAN LOVE STORY

Nayeem & Brooke Choudhury
June 18, 2022
Written by | Julie Dawson
Photographer | Adam + Dawn Photography
When Brooke met Nayeem in 2018, it was far from love at first sight. The two were both working at the Meyer Center when a mutual coworker and friend of theirs connected the two of them, which prompted Brooke to add Nayeem on Facebook, leading to their first date a few days later. Brooke remembers their love story fondly, though notes that it didn't start out as love at first sight. The future Mr. and Mrs. were in different places at the time of their first date, and Nayeem didn't care for dogs, much to Brooke's dismay, so they parted amicably and went their separate ways. Not long after though, when Brooke needed a ride home after a night out, the two found their way back to each other and became inseparable.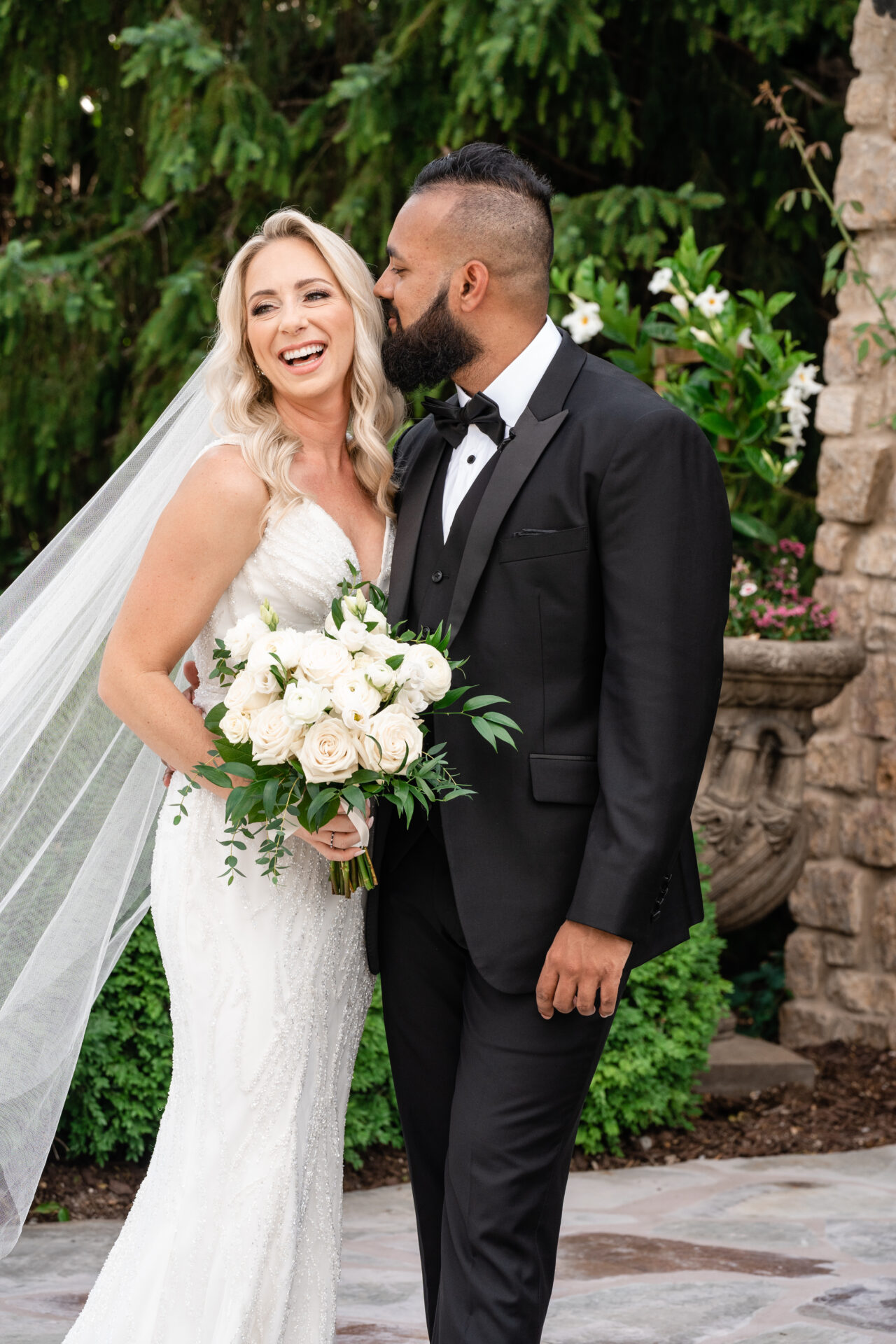 In 2020, after two years of courtship, Brooke and Nayeem were at the Raleigh, North Carolina Rose Garden. Brooke was suspicious of Nayeem as his behavior and nervous energy indicated something was up. Between his attempt to pick out their dinner clothes (something Brooke notes he never did before) and his obvious attempt to stall their date until the proposal was set (trying to get Brooke to smell each different type of rose in the garden), there was no denying that something was different about that night. Much to Brooke's suspicions, and inevitable surprise, she was led to a beautiful pergola adorned with candles, wine and rose petals where Nayeem had photographers and Brooke's best friend ready to record their proposal. After the question was asked and Brooke said yes, the couple joined their closest family and friends at a restaurant in Durham, North Carolina to celebrate their engagement.
Throughout their engagement, the happy couple continued to reside in North Carolina, however having roots in the 417 meant that they were quickly drawn to the southwestern Missouri area when planning their nuptials. Nayeem lived in Springfield before and Brooke was from Branson, so the two immediately thought they should wed near Table Rock Lake. Having two different religious backgrounds (Muslim and Christian), the couple had some difficulty in finding the perfect venue for their I dos, but they eventually decided on Integrity Hills in Ridgedale, Missouri.
From North Carolina to Missouri, the couple were no strangers to crossing borders and state lines for the sake of their wedding. Brooke remembers that choosing her wedding dress led her to the great state of New York. Throughout the planning process. Pallas Couture, an Australian wedding dress company, was hosting a trunk pop-up event in New York City, so Brooke, her mother and two bridesmaids went to the Big Apple for a weekend to seek and find Brooke's dream dress. It was something that Brooke credits with making her wedding planning process so special, and her dress a dream come true.
As the couple continued to plan their wedding, they knew they wanted to incorporate some of Nayeem's culture into their big day somehow. Being from Bangladesh meant that Nayeem stems from a rich culture, and the two ended up incorporating this through the food that they served at their wedding. Brooke notes that they served lamb biryani (a rice dish) and rasgullas (a milk ball dish with sugar syrup). It made for the perfect combination of both cultures on their wedding day.
Brooke remembers fondly that her favorite part of their big day was the ceremony itself. She recounts the moment she walked down the aisle to the person she loved more than anyone, her future husband, and says there's no greater feeling than that moment. She recalls that all other concerns fade away in that moment and all that matters is you and your true love. It's a memory she'll hold near to her heart forever.
When asked to give advice to future brides and grooms, Brooke had one piece of advice to give, and it's simple – enjoy the process. Wedding planning goes by quickly, and the day of goes even faster, so she encourages future couples who are getting married to enjoy every moment of the process as it will be over before you know it, and it's truly something you want to savor and enjoy. From a rocky start, to an inseparable bond, to a wedding that led them halfway across the country, Brooke and Nayeem share a love and a promise to one another to have and to hold forevermore. A world-wide wedding and a devoted couple made this story one of fairytale proportions