Wedding Shower Theme Ideas
Weddings are incredibly special events – everything is meticulously planned around a celebration of the love between two people. While the significance of bridal showers appears pale in comparison to a wedding, however, they can be almost as important as the wedding. Usually planned by those closest to the bride-to-be – the Maid of Honor and the other Bridesmaids, for example – bridal showers are an opportunity for the family and friends of the bride-to-be to show their care, love and support for her as she begins a new chapter in her life. Themed parties are not only fun, but they can be a direct representation of the bride-to-be's future or her personality. Below are some categories and themes that may inspire you when planning a bridal shower.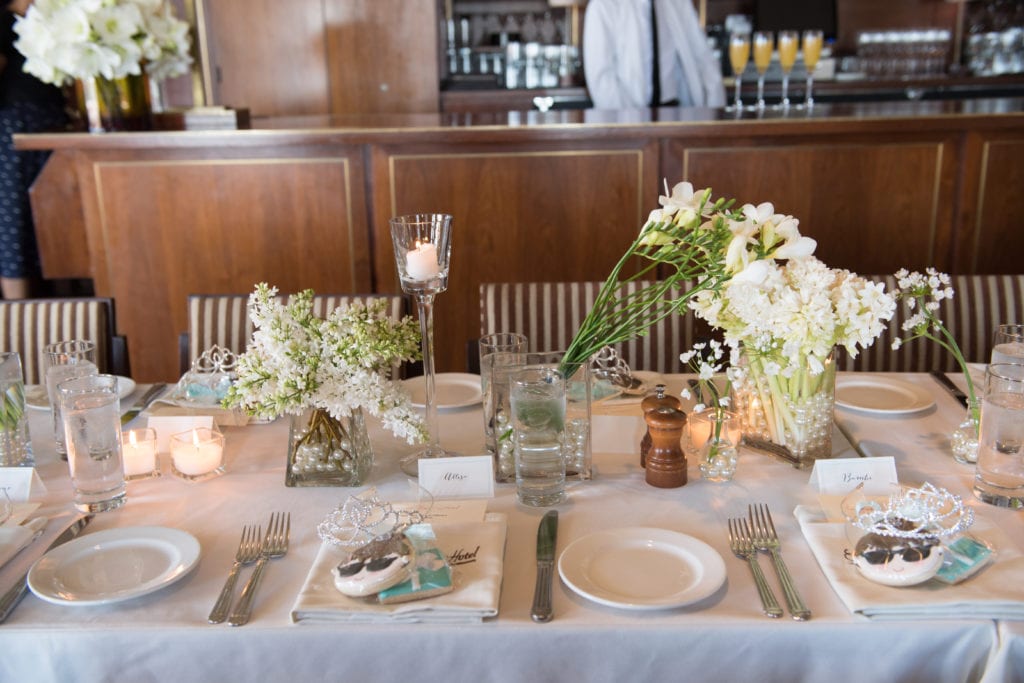 WEDDING STYLE
Vintage:
For a vintage theme, think ivory instead of white and dark grey in lieu of black. Lace? Yes, please. An ornately framed chalkboard announcement wouldn't go amiss, either, and anything from mismatched pastel chairs and tables to delicate fine china would add a touch of whimsy to the party.
Rustic:
Rustic themed showers are popular for a reason – string lights and tea-candles in jars wrapped in twine can provide a cozy and romantic aura to the event, while wooden tables minimally decorated with baby's breath would lend a homey vibe.
Bling:
Bring out the glitter and a cake in the shape of a diamond for a bling theme! This theme has fun and romance as its focal point, so as long as there are plenty of party games (e.g. He Said/She Said or Pin the Bling on the Ring) and there's plenty of bling (napkin rings that look like engagement rings, perhaps) you can't go wrong.
Bohemian:
Break out the flower crowns and wildflower bouquets for a bohemian themed bridal shower. Streamers of champagne and white can lend a soft touch to daisy-chain decorations and brightly embroidered table runners. Using cushions instead of chairs will add a comfortable and fun aspect to the shower.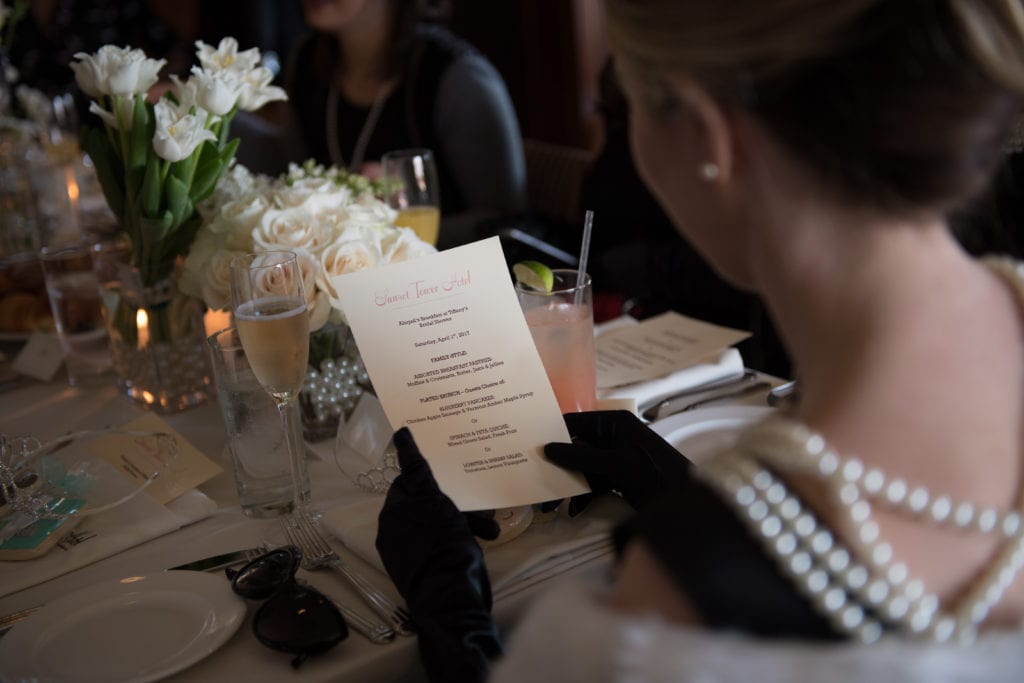 LOVE STORIES
The Great Gatsby:
If the bride-to-be is a fan of Fitzgerald and the 1920s, then a Great Gatsby themed bridal shower may be perfect. Colors of white, black and gold will bring an air of class to the event. Champagne and jazz music will complete this classic theme.
Breakfast at Tiffany's:
Pearls and a pair of classy shades are essential for a Breakfast at Tiffany's themed shower. Sky blue, black and white are the typical colors for this theme. A tiara for the bride-to-be will make her feel extra special.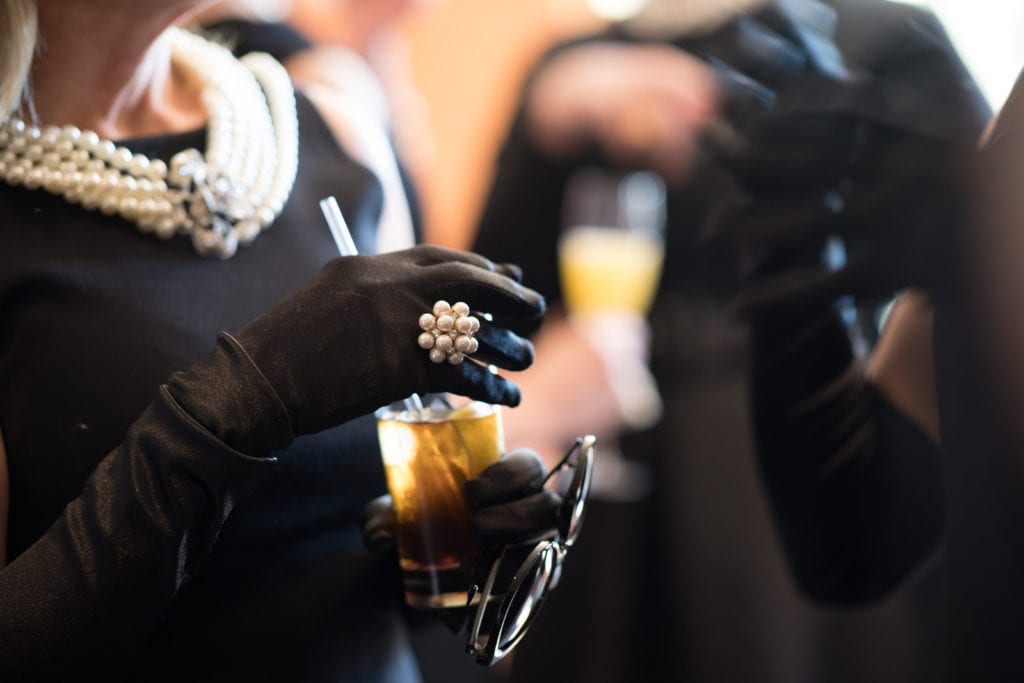 The Notebook:
Fans of The Notebook, originally a book written by Nicholas Sparks that later became a beloved movie adaptation, will love a bridal shower complete with glass Coca-Cola bottles and gingham table cloths. With a few pin-up curls and some lipstick, the party will seem like it's straight out of the 1940s.
Pride and Prejudice:
For fans of Jane Austen's famous novel, Pride and Prejudice, include proper English tea and light, soft colors. Vintage parasols and book pages createing fun flowers and napkin holders are a fantastic option. If you are creative, make a silhouette of the couple in black and white! What better way to celebrate a woman that has found her Mr. Darcy at last?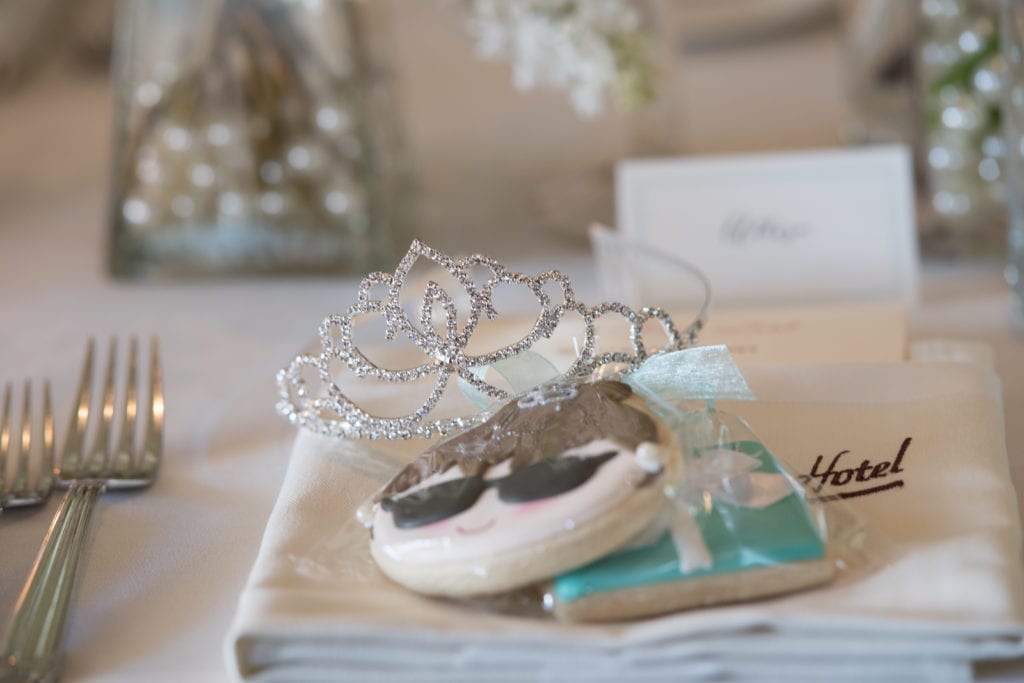 HONEYMOON
Beach / Island:
Decorations with vibrant, warm colors are a must for a beach/island theme. Blue, sea-green and sand-colored streamers will compliment centerpieces of starfish, sand dollars and seashells. Having guests put messages of encouragement and advice in a bottle for the bride-to-be is a special and relevant way to enhance the theme further.
Paris:
A Parisian theme is not complete without one or two renditions of the Eiffel Tower. This city of love theme can include any colors! Your café-style shower will be inviting with elegant hearts, fleur-de-lis and chandelier decorations (plus it's the perfect excuse to serve macarons).
Italy:
Arrangements of balloons in the shape of grape clusters and empty wine bottles repurposed as flower vases are perfect decorations for an Italy themed bridal shower. Italian food and wine are delicious options for this theme as well.
Greece:
A Grecian themed shower calls for decorations of gold and white as a nod to famous Greek mythology (cupids originated from Greece after all). Add to the ambience by using assorted goblets in lieu of wine glasses! Use columns for decor and give out gold or silver-colored circlets as party favors.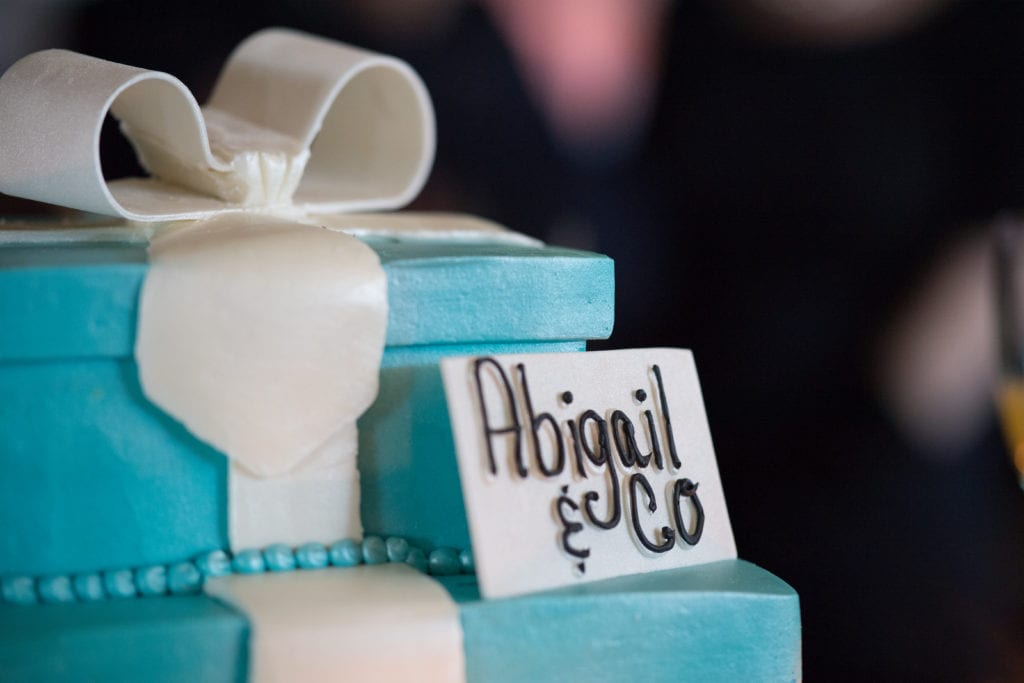 COLOR SCHEMES
Wedding Colors:
Using the actual wedding colors for the bridal shower theme will be special for the bride-to-be as she'll be able to see how the colors compliment each other in a real-life setting before her nuptials. They'll also be a constant reminder of her upcoming big day, which is sure to excite and delight her.
Bride's Favorite Colors:
In the event that the wedding colors are not necessarily the bride's favorite colors, the bridal shower is the perfect time to show off her style. This will make the day undeniably hers, and in the process make it all the more special and unique to her.
Team Colors:
If the bride-to-be is an avid sports fan, what better way to support her favorite team than to use their colors as the bridal shower theme? Decorations of red, white and navy blue are a welcome sight for a St. Louis Cardinals fan, and a fan of the Kansas City Royals won't turn her nose up at white and royal blue décor.
Seasonal Colors:
Using the bride-to-be's favorite season as a source of inspiration is perfect for a bridal shower theme. Blue, white and silver can turn any space into a makeshift winter wonderland, and blush pink and green can make for a fresh spring theme. Soft yellows, pinks and vibrant violets are perfect for summer themes, and fiery orange, bright yellow and deep red are reminiscent of brilliantly colored autumn months.
WRITTEN BY: Hannah Overby
IMAGES BY: Bambi Cantrell