A METROPOLITAN LOVE STORY
Brenden & Mikily Fandel
December 10, 2022
Written By | Meg Daniel
Photographer | Christina Zapata Photography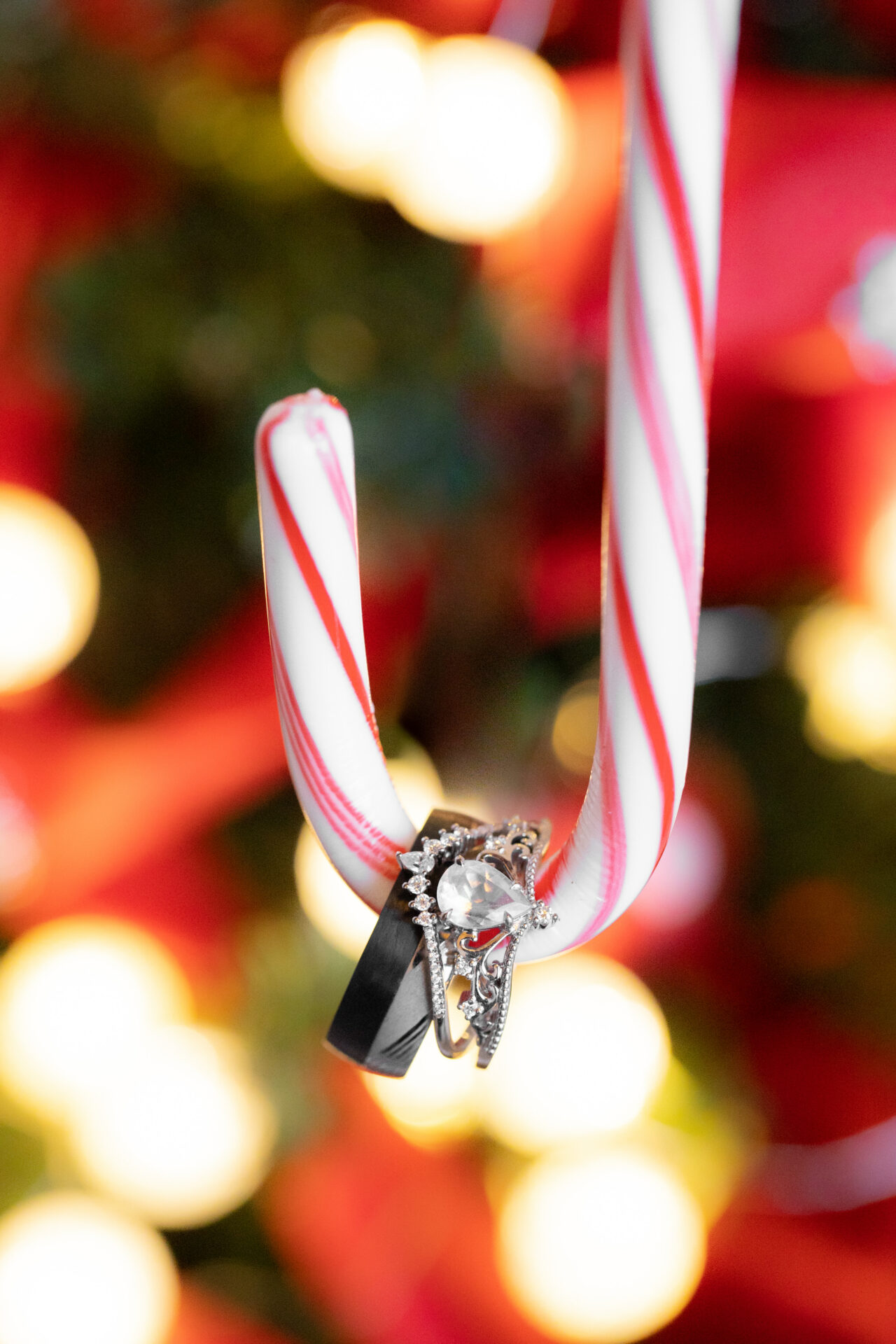 Who would have thought that in the video game, World of Warcraft, Mikily would meet her Prince Charming? Seven years ago, while playing in this online community, Brenden and Mikily starting chatting. She was living in Bentonville, Arkansas while he was living in Rockford, Illinois. After badgering her to meet in person, she finally said yes and immediately they felt a connection. Not wanting to have a long distance relationship, Brenden moved to Arkansas and the love story continued. The couple discussed getting married and Mikily had planned out the engagement proposal, but Brenden would often threaten to propose at crazy, unromantic places. Finally, he did propose one evening at Crystal Bridges Art Museum, below the twinkling lights and it was perfect.
Mikily and Brenden knew they wanted a December wedding and looked at many different options. From barns to industrial venues, nothing felt right until they came to Chateau Charmant. This castle was the perfect place for this magical couple to tie the knot. It was beautiful, soft and had plenty of rooms that would make fantastic backdrops for photos.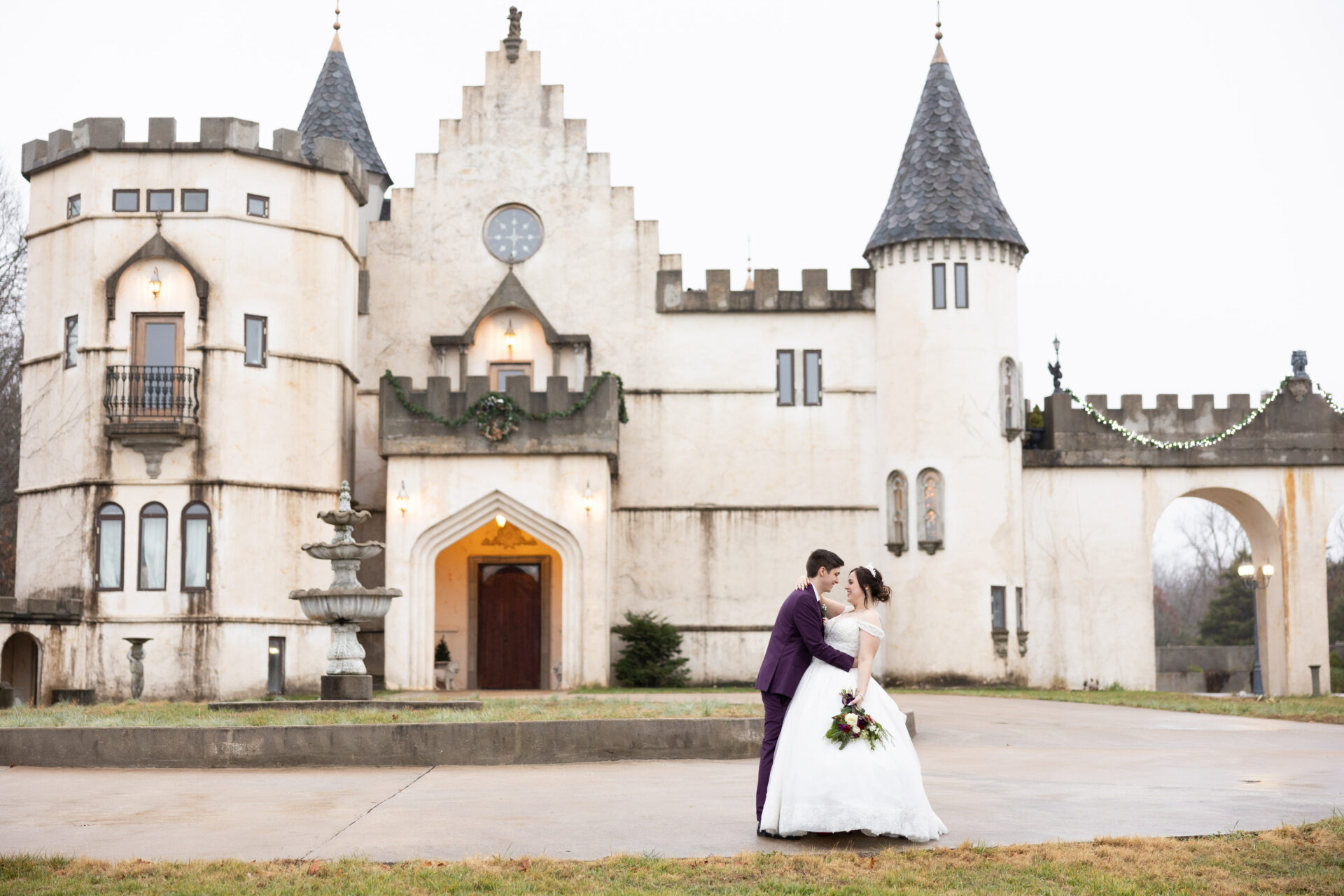 To help make the whole wedding planning process easier, Mikily had the assistance of a fairy godmother, also known as her Wedding Planner, Jenna from Cue the Confetti. She was so helpful and was able to recommend vendors, answer questions, squash any concerns, keep unruly guests in line and as Mikily says, "just allowed me to spend the day in love with my groom, enjoying time with family and friends."
Mikily and her bridal entourage went to a couple of local bridal boutiques to find her perfect dress. But this bride soon discovered it was hard to discern her own likes and dislikes while hearing everyone else's opinions. She made an appointment at Norman's Bridal and went there solo. She showed her consultant a photo of a dress she liked and they were able to find one very similar. Once Mikily put it on, she knew this dress was "the one." She scheduled another appointment to bring back the entourage and got approval tears from everyone. Mikily also knew since her wedding was in December, she did not want floral touches on her dress. Her alterations seamstress, Coco from Coco Couture, was able to add some snowflake lace and beading and as Mikily says, "My dress was custom, crazy beautiful."
Brenden did not have strong opinions about what he would wear and Mikily found a handsome deep purple suit at Paul Phillips Formalwear. She asked him, "How mad would you be if I put you in purple?" "Not mad at all!" was his response. Brenden looked dashing and felt so confident in his custom suit.
Being a December wedding, initially they wanted to decorate with red, white and gold. But once they found the purple suit, the bridesmaids then wore plum velvet dresses. The couple still had crimson red touches throughout, from Mikily's shoes to flower girl and ring bearer outfits and decorating with ornaments and gold, the Chateau Charmant looked like a fairytale dream castle.
Knowing this was such a picturesque venue, the couple wanted a photographer that would capture this feeling. Mikily had met Christina Zapata at a Metropolitan Wedding Expo and fell in love with her bright and effortless style. "I am obsessed with Christina's work! I just love it so much, now that I am pregnant she is going to do my maternity shoot. I cannot wait to find more ways to get more Christina in my life!"
The couple also knew they did not want traditional wedding food, but loved the idea of a brunch. At the Metropolitan Wedding Expo, Mikily met Simply Delicious Catering. Mikily's family has a tradition that on Christmas morning they always eat Orange French Toast. When she asked if they could recreate her family's recipe, Simply Delicious' response was, "no problem!" Elevating the menu to another level, they added a complete brunch menu, with the family recipe at the centerpiece.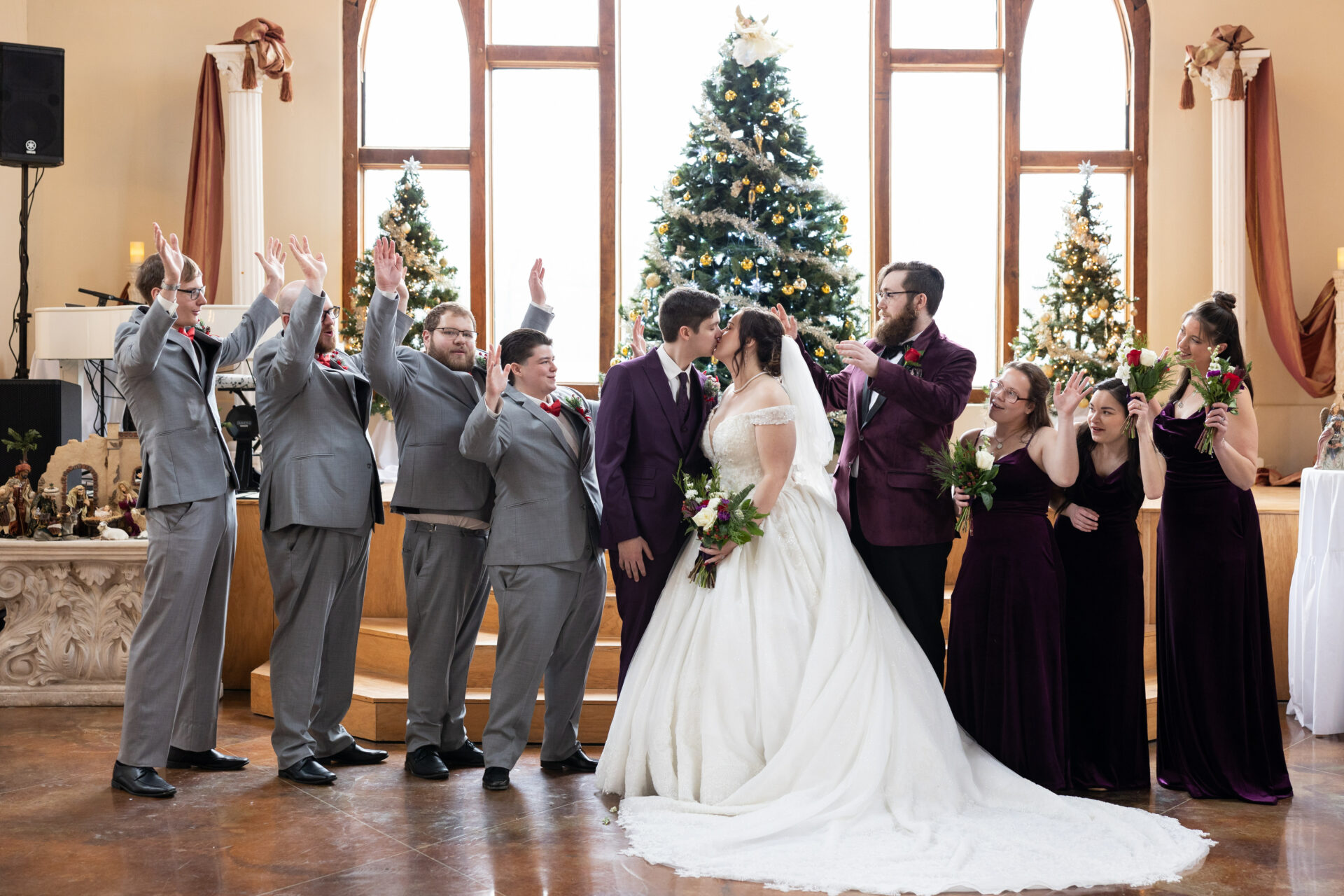 Jenna, from Cue the Confetti, also recommended DJ Jason Whorlow. "Jason was fantastic," raved Mikily, "he did a great job of reading the room and encouraging folks to dance. We had a lot of little children as guests and we even did the Hokey Pokey." But the couple's favorite moment was their last dance. Wedding Planner Jenna ushered the guests outside and began passing out confetti. In the meantime, while it was just Mikily and Brenden, they had a private last dance to a song that was so meaningful and special to them with no one else in the room. Mikily remembers, "I did not even know Jason was there, and Christina was so sneaky, letting us soak up the moment, but she captured some of my favorite photos." After the private dance, the couple exited through the confetti, waving goodbye to all their guests.
Mikily encourages engaged couples to "not worry so much. Some plans just work out for the best."
XOXO, MET WED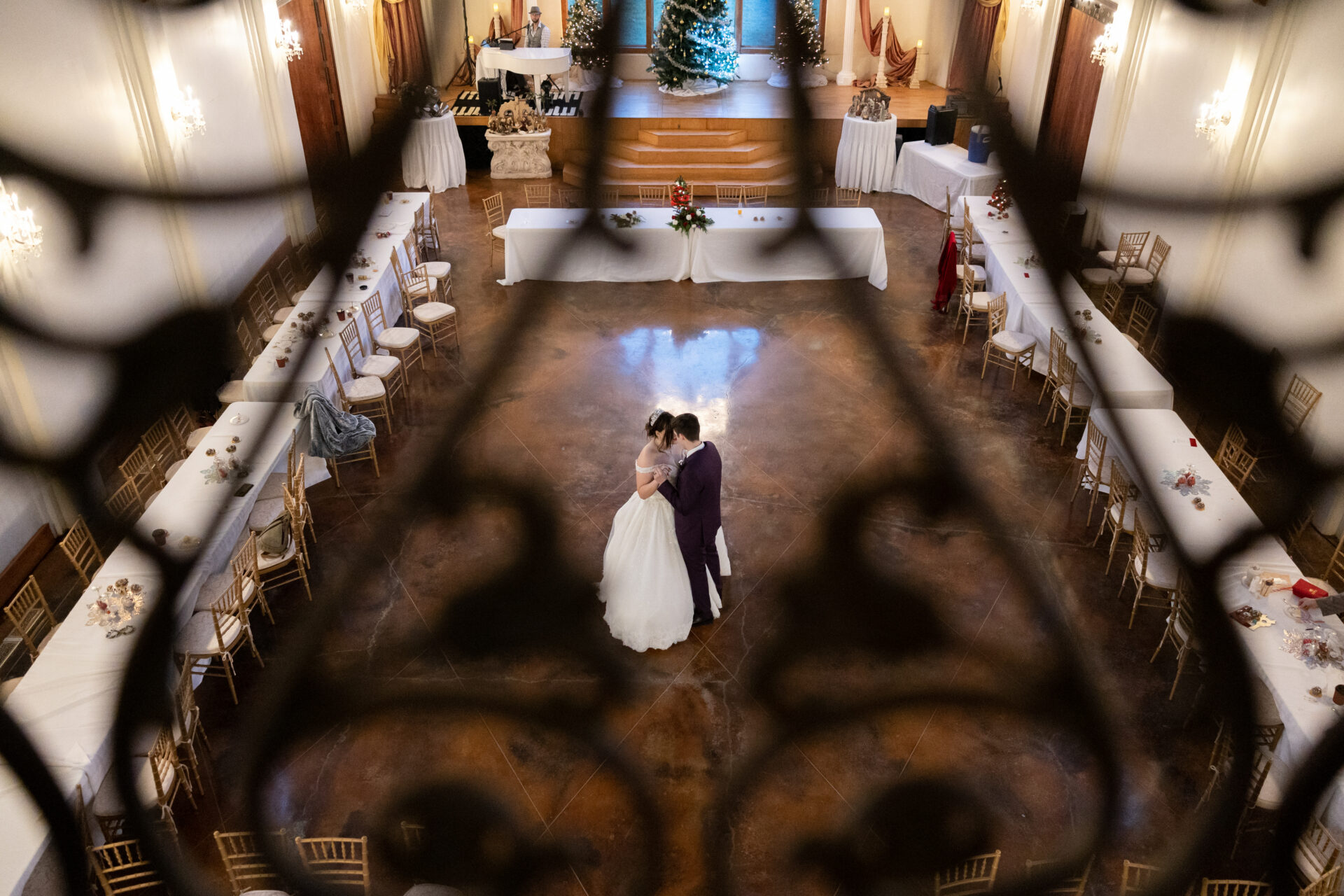 FULL MERCHANT LIST
Alterations
Coco from Coco Couture
Bartending Service
Simply Delicious Bartending
Bridal Gown
Normans Bridal
Bridesmaids Gowns
Normans Bridal
Cake
Becca Bakes
Caterer
Simply Delicious Catering
Dance Lessons
Dance With Me
Entertainment Ceremony
Erin Payne
Entertainment Reception
Whorlow Entertainment
Floral
Finn & Olive Floral
Hair & Makeup
Rouge Beauty Bar
Men's Formalwear
Paul Phillips Formal Wear
Photographer
Christina Zapata Photography
Venue Ceremony
St. Agnes Cathedral
Venue Reception
Chateau Charmant
Wedding Planner
Cue the Confetti