A METROPOLITAN WEDDING LOVE STORY
Tom & Noel O'Neill
May 6, 2023
Written By | Meg Daniel
Photographer | Lighter Focus Photography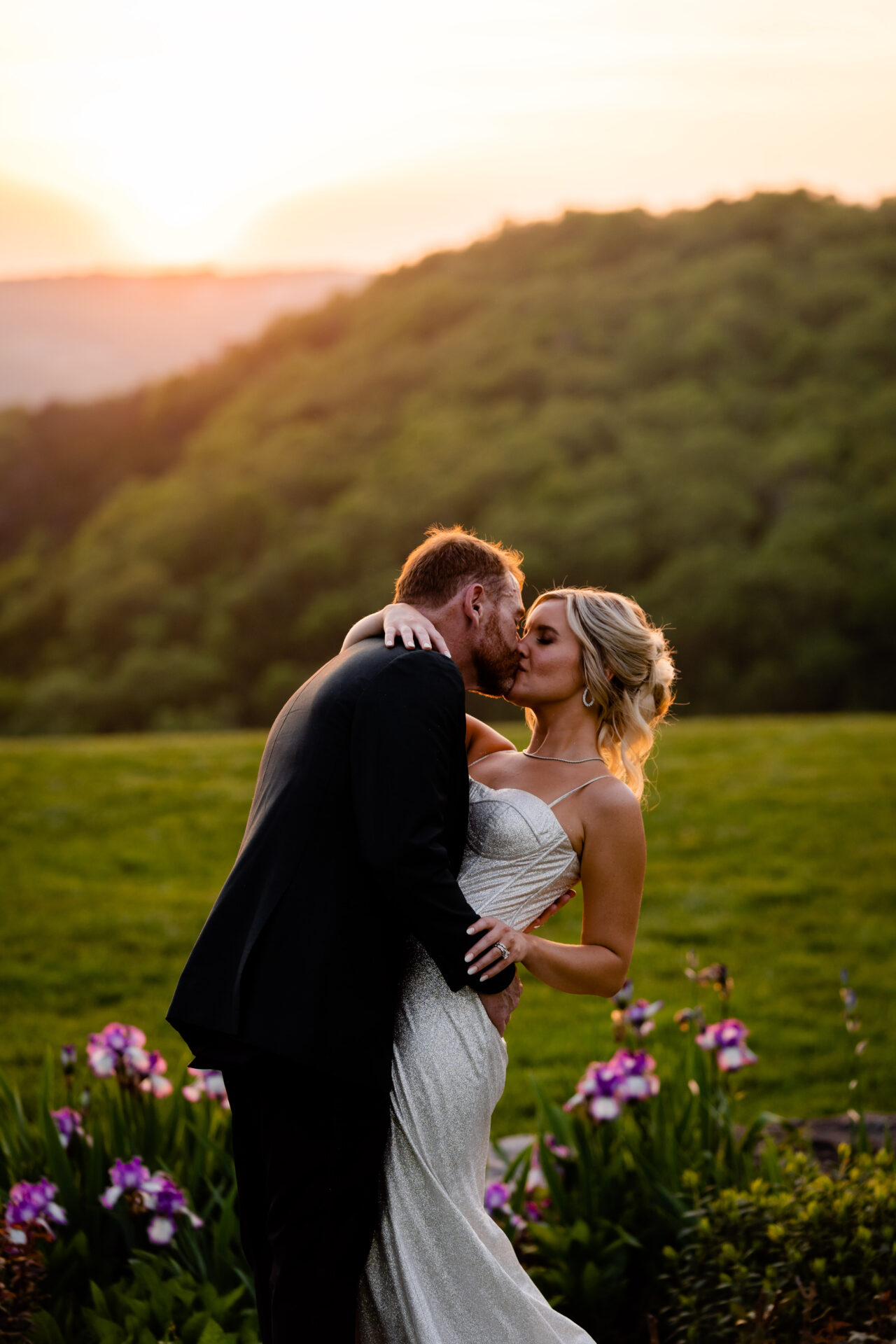 Music has a way weaving itself into your heart. Certain songs can often express feelings and emotions more eloquently than you can say them out loud. Noel and Tom have often shared playlists, songs and lyrics, professing their love to each other. Tom would even send sweet notes in flowers to Noel with musical reference sentiments like "In case you didn't know…love, Tom"
In November 2021, the couple went on vacation to Hawaii. Tom planned to pop the question and had already coordinated a Zoom call with family and friends back home to be able to watch the proposal. He found a beautiful lunch spot with live music. Tom snuck away, asking the musician if she could sing "In Case You Didn't Know" by Brett Young, while he proposed. While a total surprise to Noel, it was the perfect proposal. It was small and intimate, just the two of them, but their family and friends were able to share in their joy through the Zoom call.
The couple knew early on they wanted to get married at Big Cedar Lodge and reserved the Integrity Hills Chapel and Stables for their ceremony and reception. Planning a wedding from Kansas City was going to be a challenge, so Tom and Noel hired wedding planner, Misty Willinger to help coordinate and plan their perfect day. Noel says, "it was a match made in heaven, we could not have done it without her. Misty handled everything so well and took all the 'unknowns' out."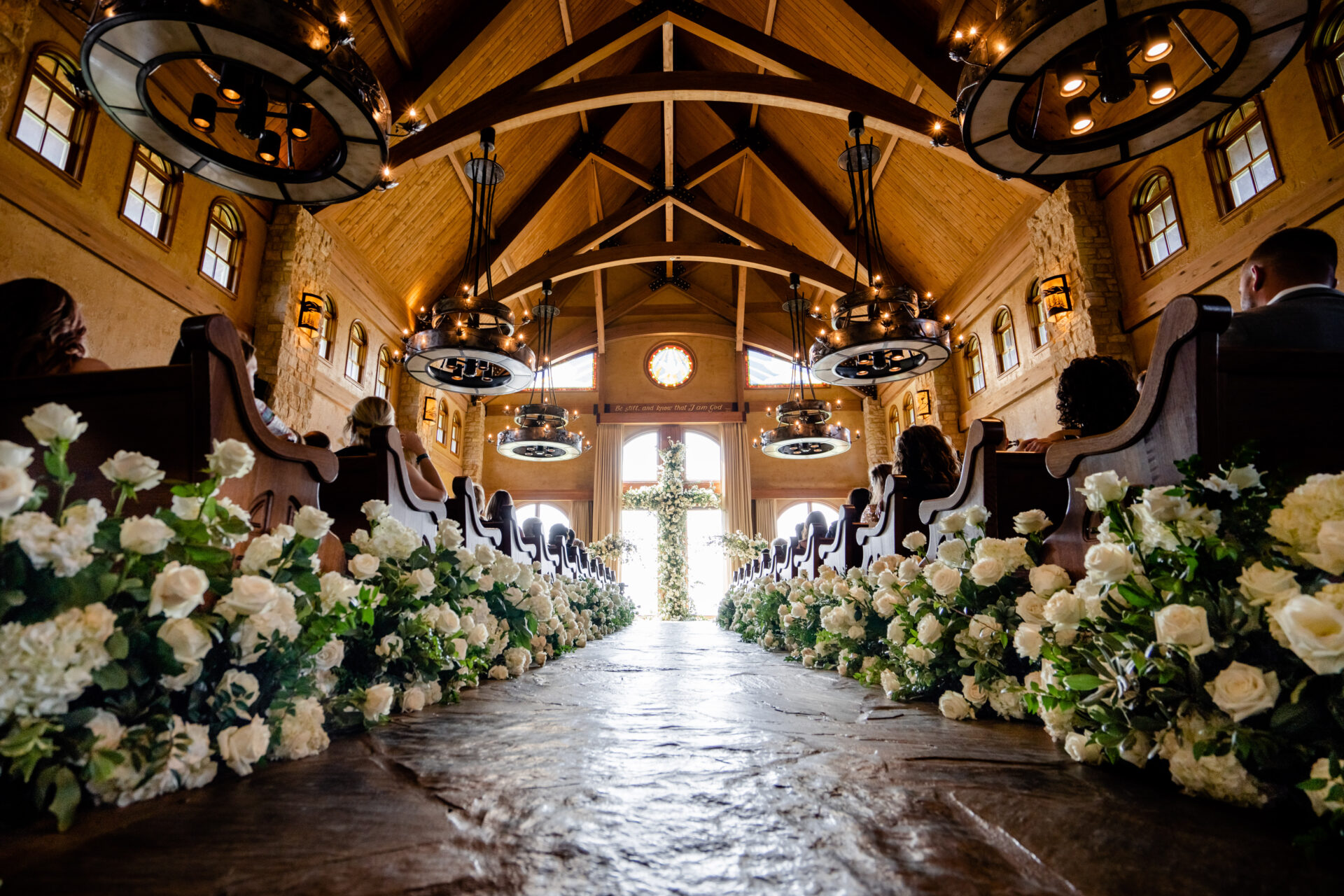 Both the bride and groom found not one, but two outfits for their wedding day, one to wear at the ceremony and another for the reception. In Wichita, Kansas with her mother, Noel found the perfect dress to get married in, but her consultant showed her one more. It was beautiful, sparkly and Noel looked at her mom and said, "I cannot leave without this dress, I think we are going home with 2 dresses!" Tom also found two outfits, a fitted black tuxedo for the ceremony and a custom tailored green sports coat for the reception.
Wisely, the couple agreed early on what was important to each of them and honored each other's wishes. "This allowed us to let everything else go and our mindset on our wedding day was so relaxed and at peace."
Tom wanted lots of flowers and Tanarah Luxe Floral knocked it out of the park with an abundance of gorgeous white floral arrangements, backdrops, garlands, arches and more. Misty had also recommended Alan Wohlgemut with Lighter Focus Photography. Noel loved his style and says, "I did not realize how important the relationship is with your photographer. He was relaxed and did not make us feel rushed, but still produced exceptional photos. His personal skills were phenomenal."
Noel chose to have a private first look, having her father walk her down the aisle to Tom in the chapel before the guests arrived. She said it was one of their favorite moments, and then when she walked down the aisle during the ceremony, it was just as emotional. Another special moment was during the ceremony, their pastor proclaimed, "Love does not hold a marriage together, but your marriage holds your love together." Tom remembers, "it felt like time was standing still."
Music had woven its way through this relationship and it was important to Tom to have a live band. While Noel prefers a DJ because she enjoys hearing the original artist perform their own songs, Tom wanted his favorite band, Lost Wax, to play at the wedding. The newlyweds knew their first dance would be "In Case You Didn't Know" by Brett Young. Tom had been working diligently behind the scenes to get the country music star to come sing this special song in person for them at their wedding. He kept it a secret and when the Lost Wax struck up the tune, the couple started to dance. But Tom pulled away from his bride, walking towards the microphone. Noel, not knowing what was happening, was worried Tom was going to sing. Instead he said, "I love Lost Wax, but I love this woman more. So I want the original artist to sing this song for you," and introduced Brett Young to the stage. Noel was completely caught off guard and shocked, yet when the couple danced together with Brett serenading them, it felt like it was just the two of them and the star-struck crowd melted away.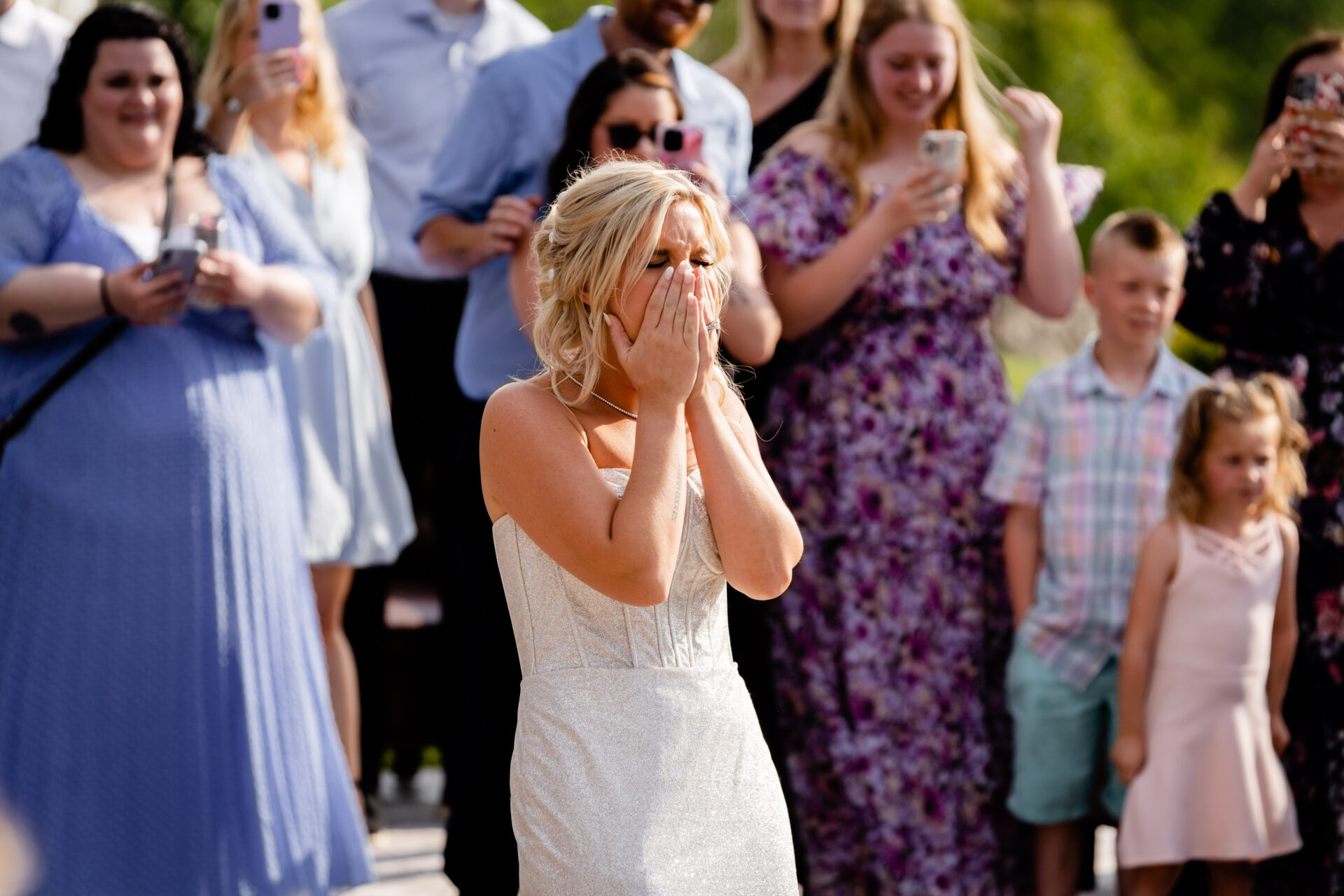 Brett played about 10 more songs, then turned the stage back over to Lost Wax. Guests enjoyed an open bar, a scrumptious dinner from Big Cedar, delicious cake from Sugar Leaf Bakery, espresso martinis, a live painter and then sent the newlyweds off with fireworks and cold sparklers. In case you didn't know, Tom and Noel are completely in love and had a perfect, magical wedding.
XOXO, MET WED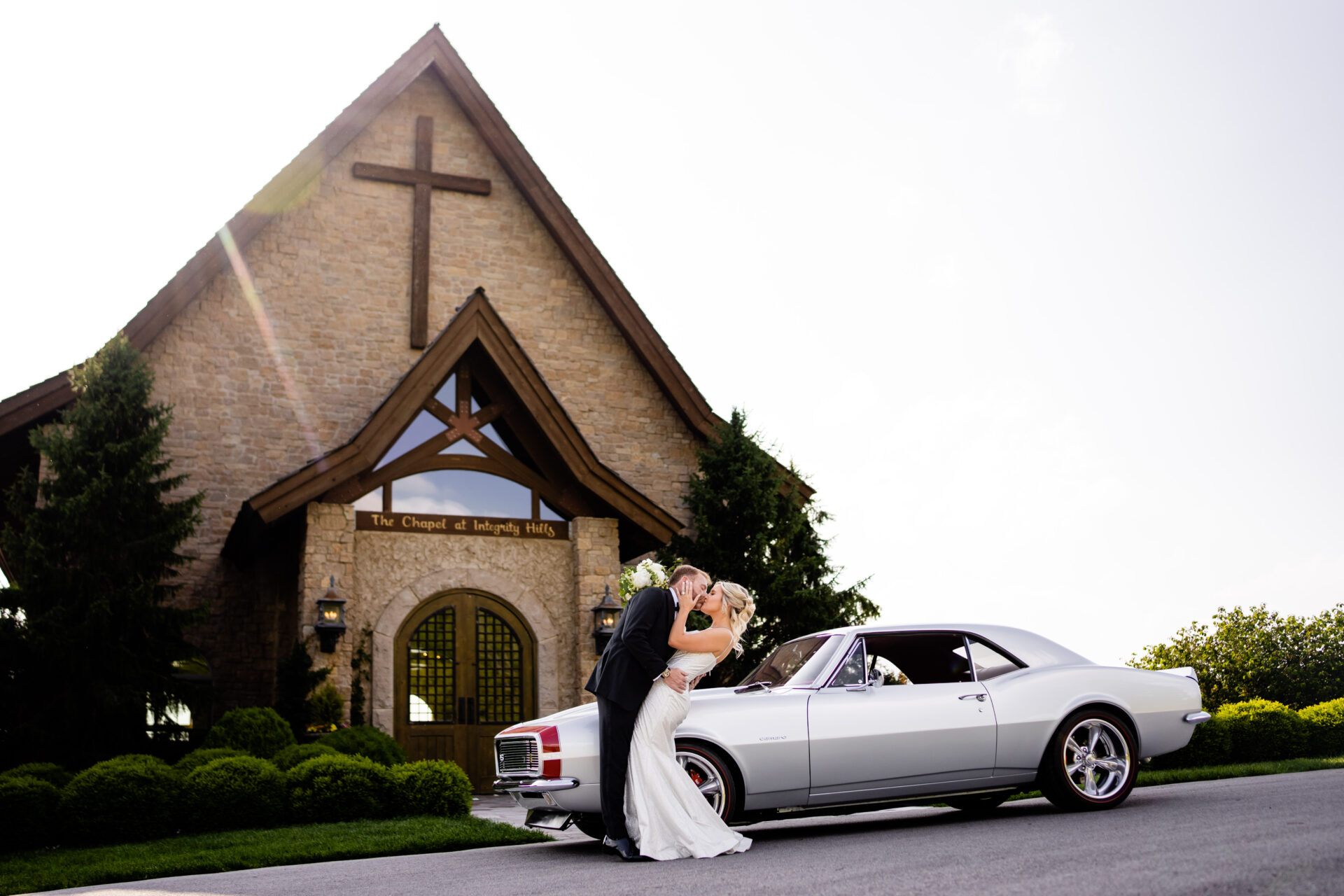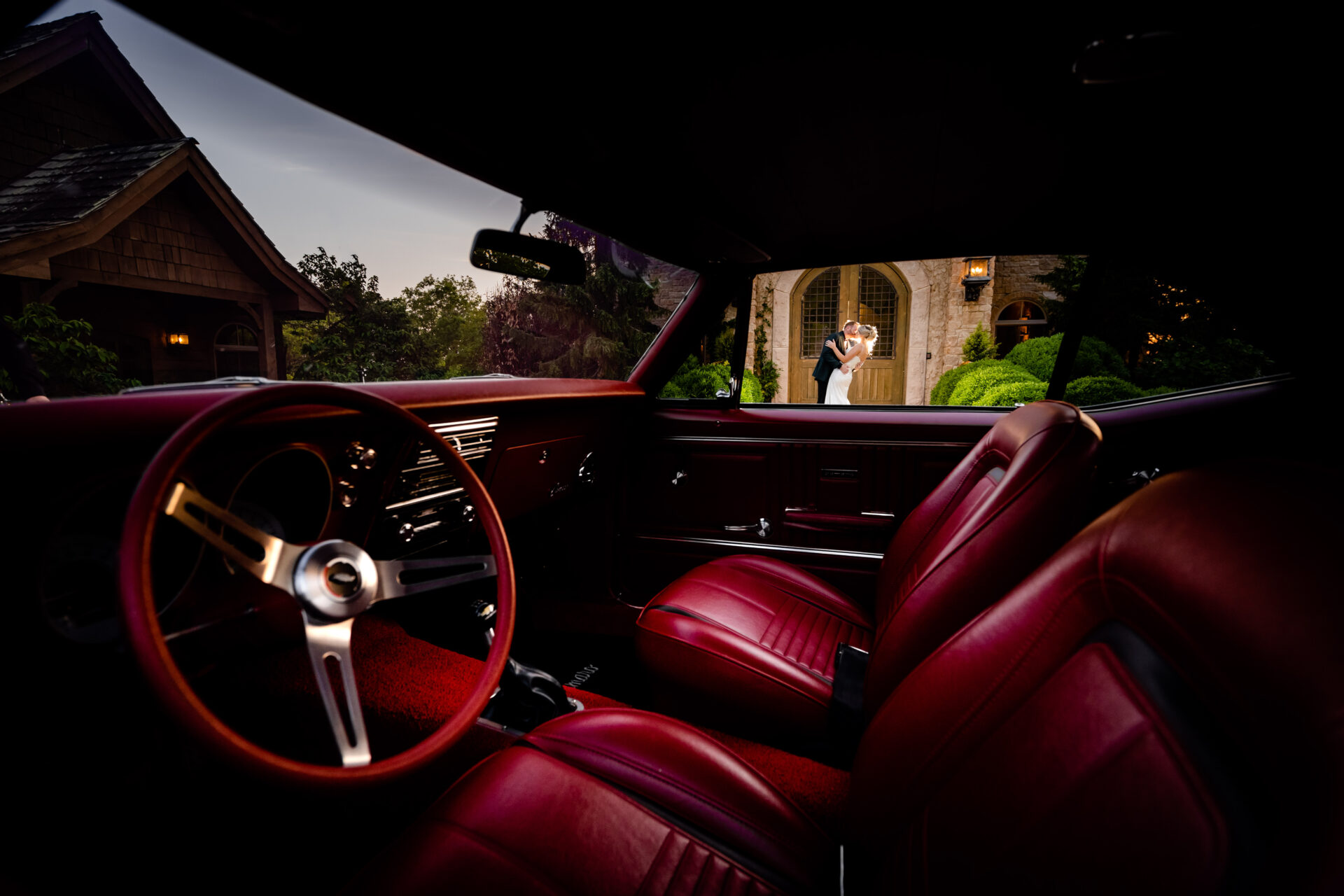 FULL MERCHANT LIST
Bridal Gown
Dress Gallery
Bridesmaids Gowns
Revelry
Cake
Sugar Leaf Bakery
Caterer & Beverage Service
Big Cedar Lodge
Entertainment
Ceremony – Kristen & Dan Weiss
Reception – Lost Wax Band
Event Decor
Melissa Casey Designs
Favors
Copper Mug Co.
Floral
Tanarah Luxe Floral
Hair
Mercedes Bell
Honeymoon Travel Service
Irish Luxury Tours
Live Painter
Kristine Westwood Art
MakeUp
Emily Edgar
Men's Formalwear
Suit Supply & Slabosky's
Photographer
Lighter Focus Photography
Rentals
Branson Party Rentals
Eventful Rentals
Elegant Linens and Rentals
Transportation
Branson Limo
Venue
Integrity Hills Chapel
Videographer
Ace Legendary
Wedding Planner
Misty Willinger Events
Wedding Rings & Accessories
Tivol