A METROPOLITAN LOVE STORY
Matt & Caitlyn Tolliver
December 3, 2022
Written By | Meg Daniel
Photographer | Shelby Chanté Photography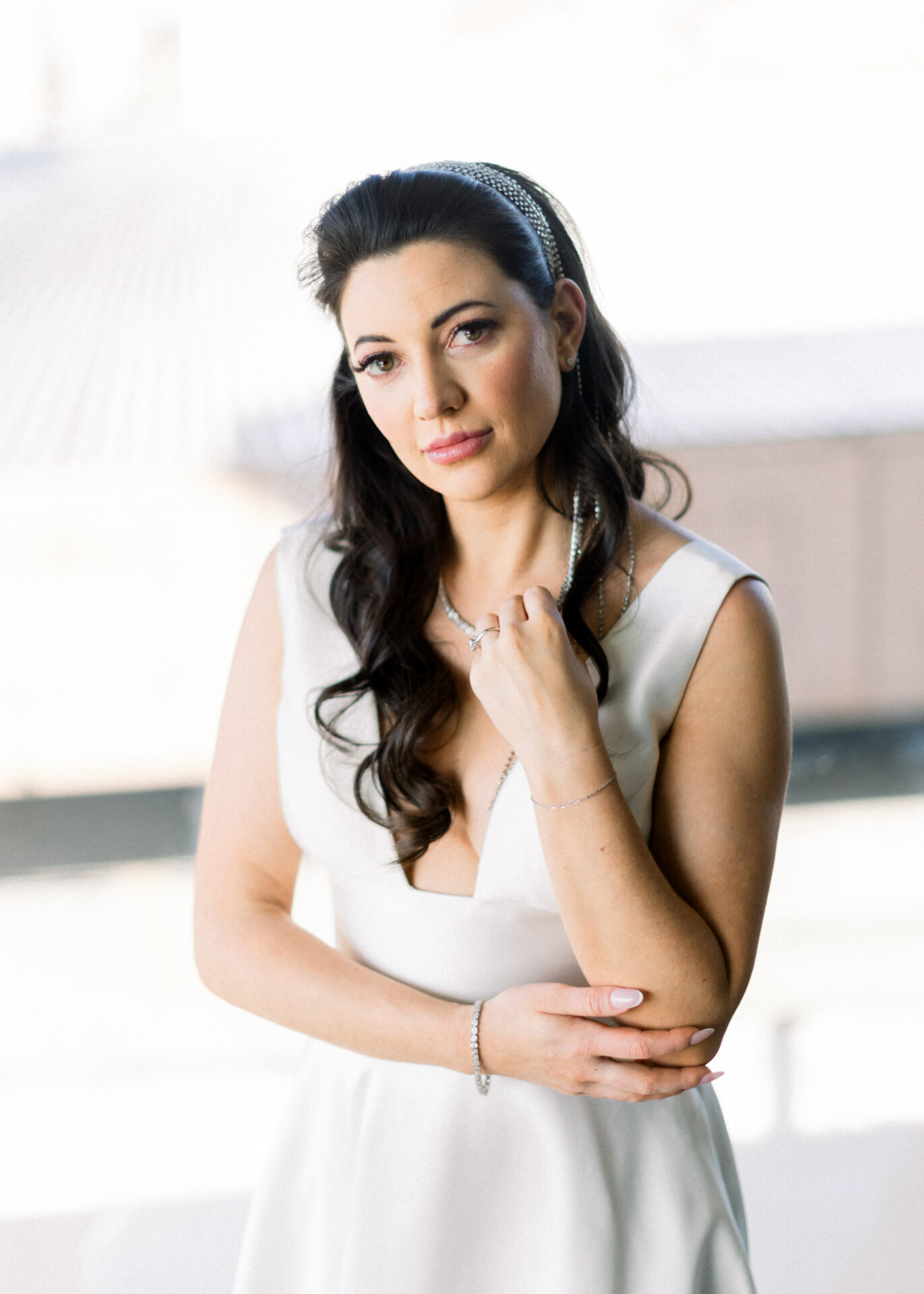 When you have been looking for your soulmate for a while and you finally find them, you will rapidly know this person is "the one." Caitlyn and Matt met at a bar where Caitlyn was celebrating a friend's birthday in December of 2019. They both realized pretty quickly that they were meant to be together. Caitlyn is a self-proclaimed dog person, while Matt has now grown to love dogs. So to ask for her hand in marriage, Matt had decorated the room with soft lights, candles and music. But the best part? The dogs were wearing signs proclaiming his love for her and asking her to marry him. Caityln says it was so sweet and thoughtful and she thought, "this is true love! It was so romantic!"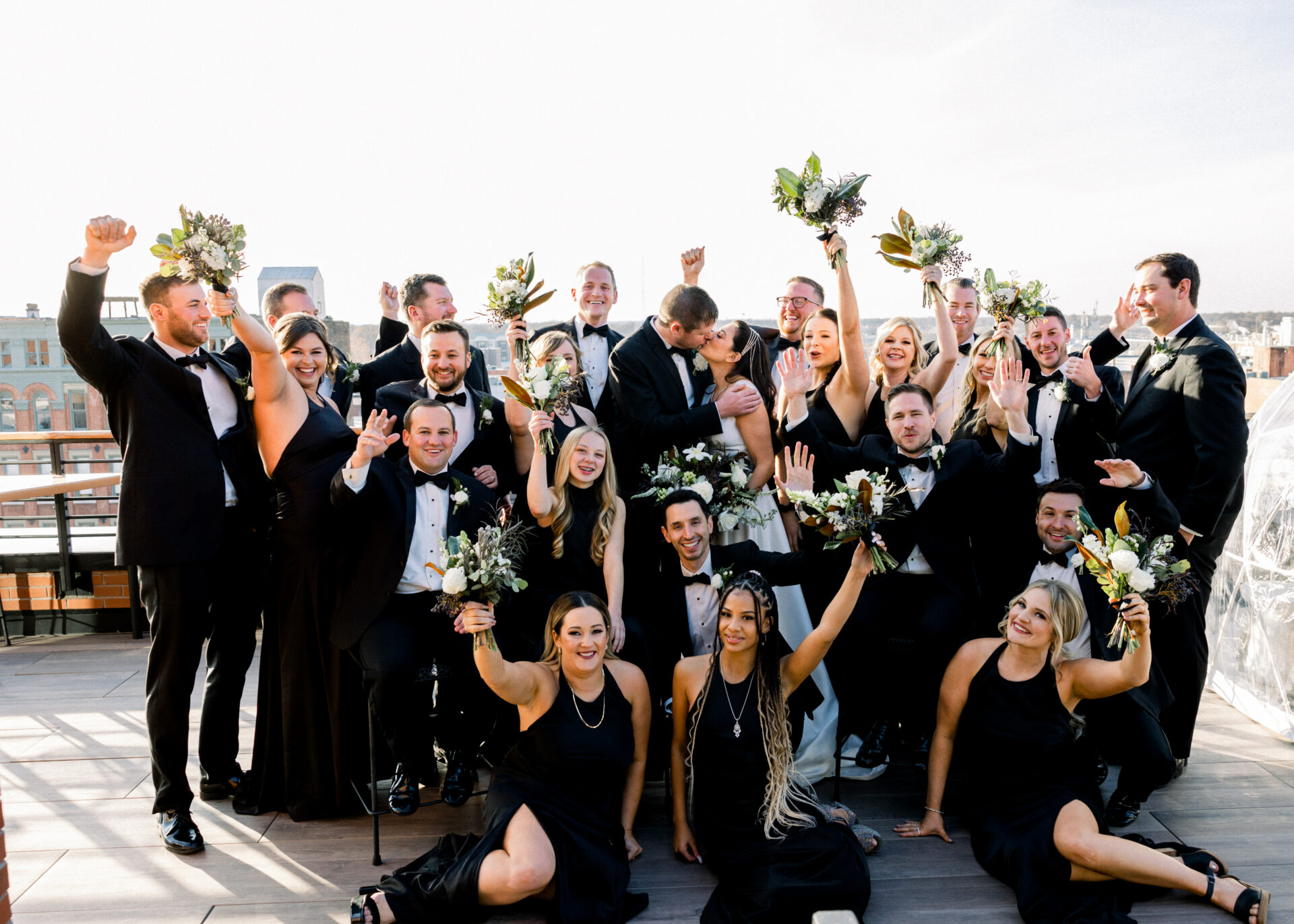 Shelby Chanté is a photographer, but she is also Caitlyn's best friend. Caitlyn had always loved Shelby's work, it was so classically beautiful and through her photos Shelby can recreate the feel and vibe of each wedding. Caitlyn was torn between asking her to be part of the bridal party or to do the photography, but in the end, there was no one else she could envision who would so perfectly capture their wedding day. Shelby's husband did the videography and between their teamwork, creativity and guidance, Caitlyn and Matt were overjoyed with the photographic results.
Since they met in December, the couple knew they wanted a December wedding with a classically simple theme. They also knew they would have a large guest list and finding a venue that was indoors, in the winter, and could accommodate 200+ people was a challenge. They fell in love with The Old Glass Place and its industrial look for their reception.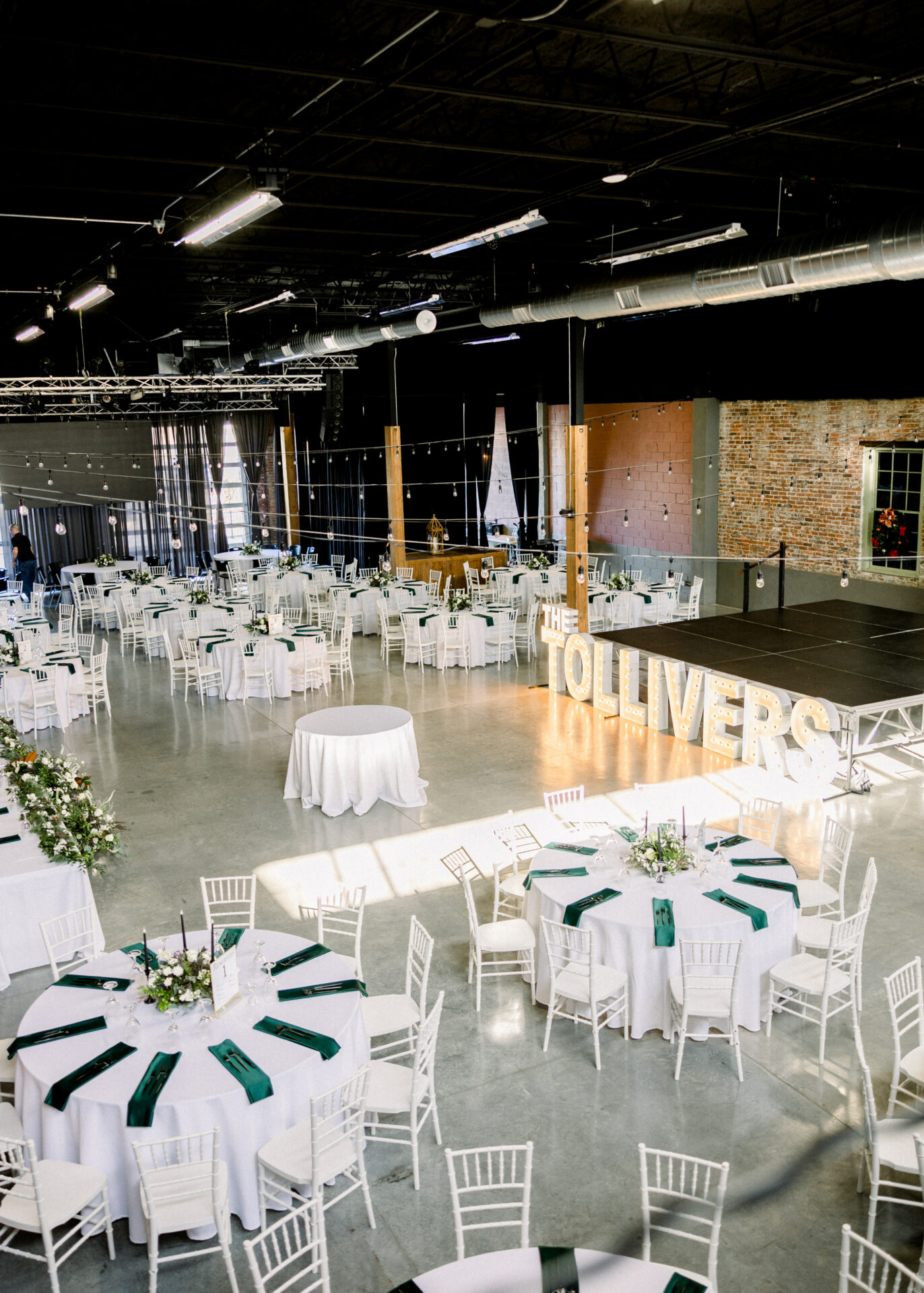 Caitlyn was worried about finding her dress. She was looking during the pandemic and had heard horror stories about dresses being backordered or not available. She had always imagined a simple, yet elegant dress. "I did not want to look back in 20 years and say 'what was I thinking?!'" While she found her dress in Kansas City, Matt stressed her out and waited until the last minute when he found his suit at Paul Phillips Formalwear. It was very classic, black tie.
Matt's cousin owned the catering business, Infused Catering, and so that was one less detail they had to sort out. Serving buffet-style prime rib and bacon-wrapped chicken, the guests raved about the delicious food. Their five tier cake, modern and elegantly simple, was from Beth's Bake Shoppe, and while their guests loved it, Caitlyn says that she and Matt were so busy, they did not even get to eat a piece! The tables were adorned with black candlesticks and low centerpieces so that guests could see across the table. But the pièce de résistance was their last name in lights on the stage. Caitlyn rented the lighted letters from Alpha Lit Springfield. This backlit focal point just made the whole room "pop!" And when the live band, The Mixtapes, took the stage, the party came alive!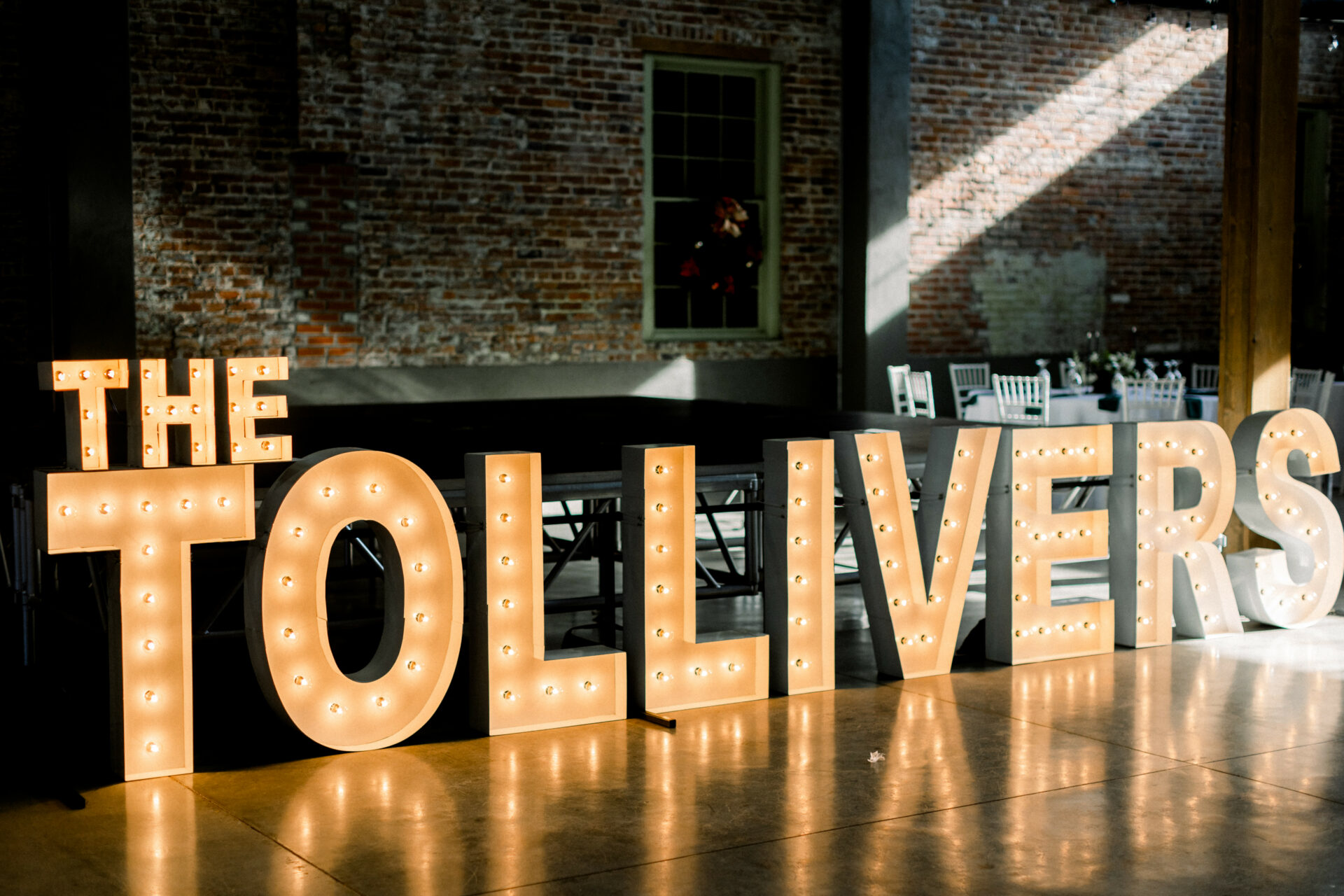 Caitlyn is a planner, and her attention to detail and communication made sure their day was perfect. She had created and shared Google docs with her entire team, bridal party and family. She also had timelines mapped out where each person needed to be and when, what the decor should look like, and all the vendors names and phone numbers so if someone had a question, they could easily call a vendor and the phone number was at their fingertips. Caitlyn says by doing all this ahead of time and sharing her vision with everyone, it allowed their day to go off without a hitch! At first, her bridal party was laughing at her meticulous planning, but by the end of the day, everyone appreciated this open communication and attention to detail. Caitlyn and Matt did not have to worry about a thing – it was already planned out and they could just enjoy each moment.
Her favorite moment was after the ceremony at King's Way United Methodist Church, the whole bridal party was on the rented party bus, ready to go to the reception at The Old Glass Place, and the newlyweds looked at each other, grinning from ear to ear and said, "We did it! We made it through!" All of the planning, meticulous scrutinizing and effort was worth every minute as they went to the reception relaxed and on cloud nine.
XOXO, MET WED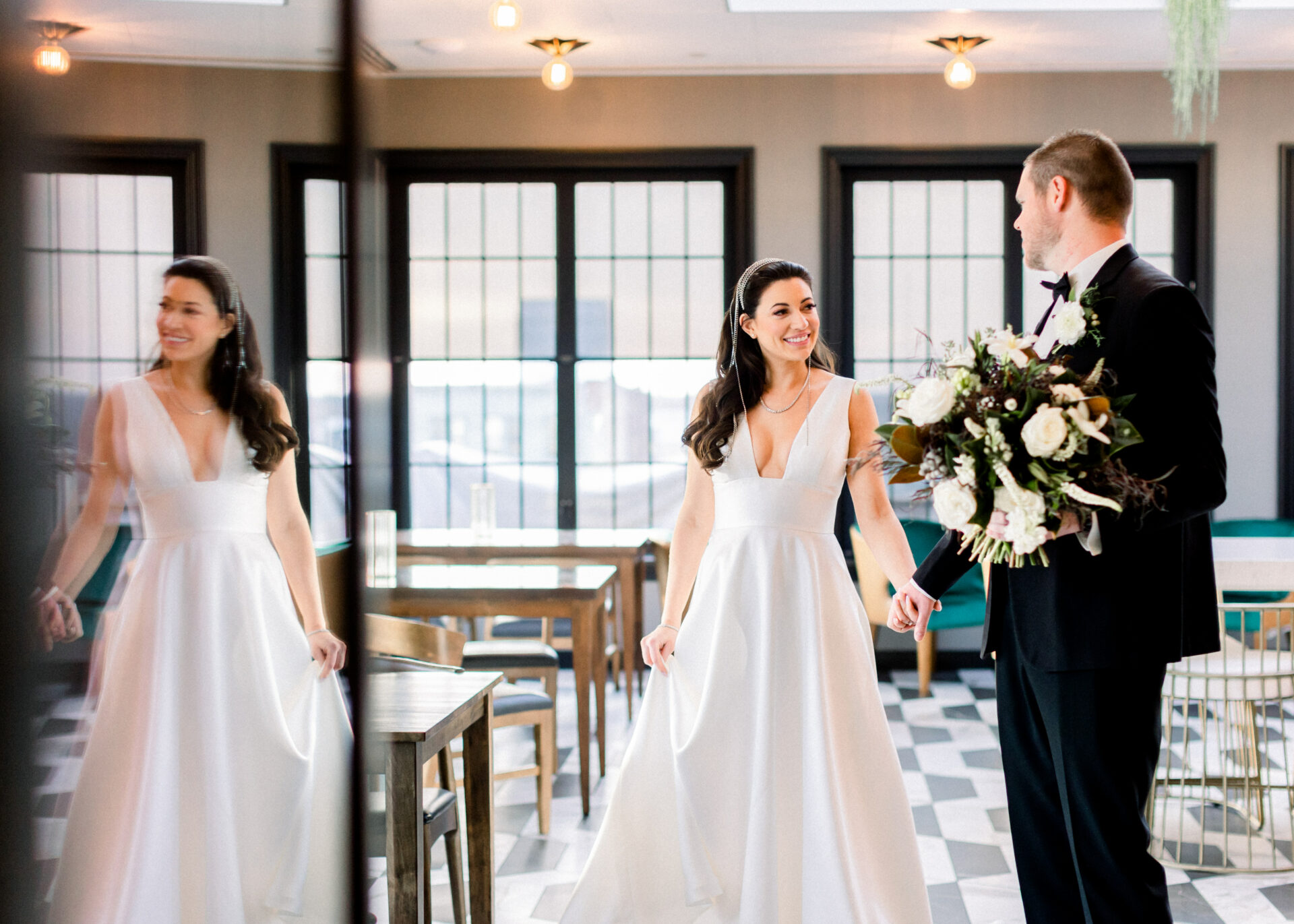 FULL MERCHANT LIST
Bartending Service
Old Glass Place
Bridal Gown
Something White Bridal Boutique
Bridesmaids Gowns
Style Posh
Cake
Beth's Bake Shoppe
Caterer
Infused Catering
Entertainment
The Mixtapes
Florals
Rebecca's Garden Studio
Hair
Looks by Sophia
MakeUp
Airbrushed by Andie
Marquee Lights
Alpha Lit Springfield
Men's Formalwear
Paul Phillips Formal Wear
Photo Booth
Elevate Entertainment
Photographer & Videographer
Shelby Chanté Photography
Rentals
Eventful Rental
Transportation
Fisk Transportation
Venue Ceremony
King's Way United Methodist Church
Venue Reception
Old Glass Place
Wedding Rings
Maxon Fine Jewelry