Written by | Nancy Brungard
Photographed by | Nick Mehn photography
For Sydney and Nate Lambert, it was not love at first sight. When Sydney's mother and sister initially saw Nate at the church they all attended, both ladies swore that he was the man Sydney would marry. Sydney was rather interested in him from the start. Nate was nice and undeniably handsome. Little did she know, Nate's sister was convinced of the same idea that the two were meant to be. Nate, on the other hand, did not think he was Sydney's "type." As Sydney saw more of Nate while his father was pastor at their church, she started to consider the idea of dating him. Nate was oblivious to the plans the two families had for him. When Sydney started talking to him and befriending him, he found he wanted to ask her on a date.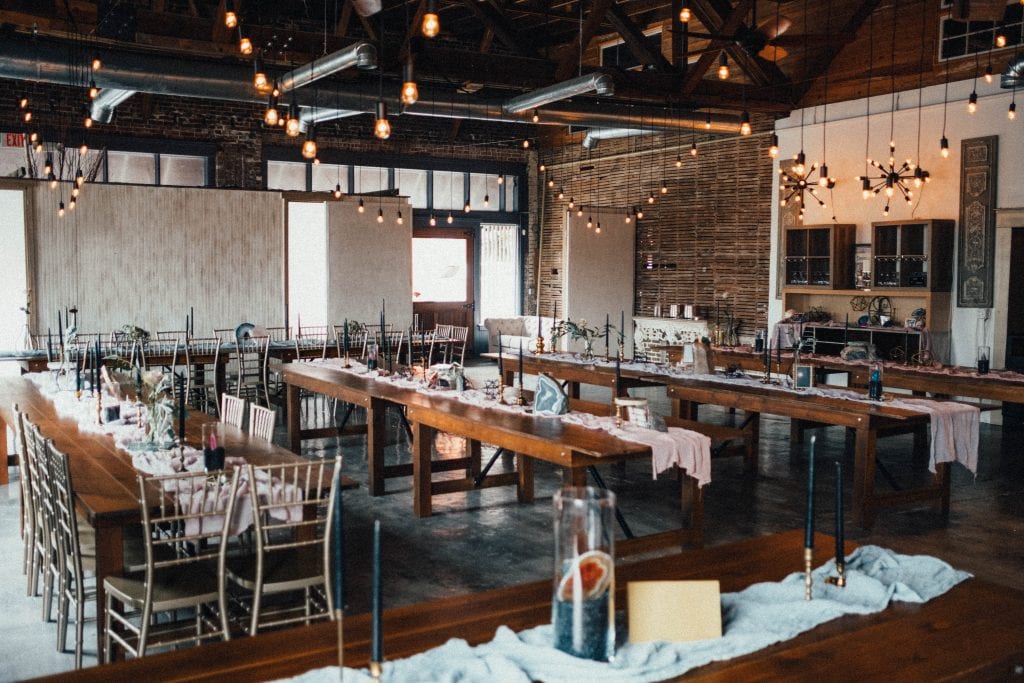 For their first date, Nate took her to Echo Bluff State Park. They shared some Chinese food and a spoon (Nate had forgotten plasticware for their takeout and had only a spoon in his car). They watched episodes of The Office on their phones, skipped stones across the water and hiked on trails. A surreal moment occurred when wild horses trotted over to the area. Nate and Sydney were able to approach the horses and pet their necks. It was a fitting end to such a wonderful date. One week later, they both said "I love you."
The couple dated for a little under one year before Nate could no longer wait; he had to propose to Sydney. He recreated their first date (minus the lack of plasticware), and proposed to her at a lake near her parent's house in Salem. Unsurprisingly, she said yes. Then came the planning. Nate would be attending his last year of college in Mississippi and, as Sydney did not want to be apart from him, they would both move there during their engagement. Nate proposed to her in May and was leaving in August. To find dresses, suits, the venue, music and decorations before they left, it was a race against time.
The first task was to find the wedding dress. Sydney's mom and sister, and Nate's mom, went with her to find a dress. They picked Gracie's Bridal in Springfield. Sydney didn't want a fluffy "princessey" dress and only jokingly tried on a poofy dress with beaded bodice as a joke. Though, when she came out of the dressing room wearing it, all three ladies with her broke down in tears at how beautiful she looked. The longer she wore it, the more she fell in love with it. This was the dress she chose to her own surprise.
Nate and the groomsmen's suits were ordered online and were in keeping with the unique color scheme Sydney had chosen: black with dusty pastels. The groomsmen's ties were square-bottomed, with jeweled pastel tones. As for the bridesmaids, Sydney ordered black jumpsuits online as well – a reflection of her desire to not have a traditional style for the wedding.
The venue was easily chosen. When Sydney and Nate met the owner of Venue on Brick in Ozark, she was so accommodating and helpful. The venue itself was absolutely gorgeous and offered catering for weddings. They both agreed the wedding should be there.
Next on the list was flowers, a photographer, music and decorations. Flowers was easy. They chose the flower shop right down the street from the venue. The photographer they chose was Nick Mehn. As for music, Sydney was quite the playlist creator so she spent literally hours and hours curating the perfect playlist for the wedding. They also hired the harpist, Claire Ankram. Nate and Sydney were innovative and shopped at craft stores and thrift shops for all the decorations: brass candleholders, industrial accents and black candles. Sydney even found tablecloths and dyed them the color she wanted.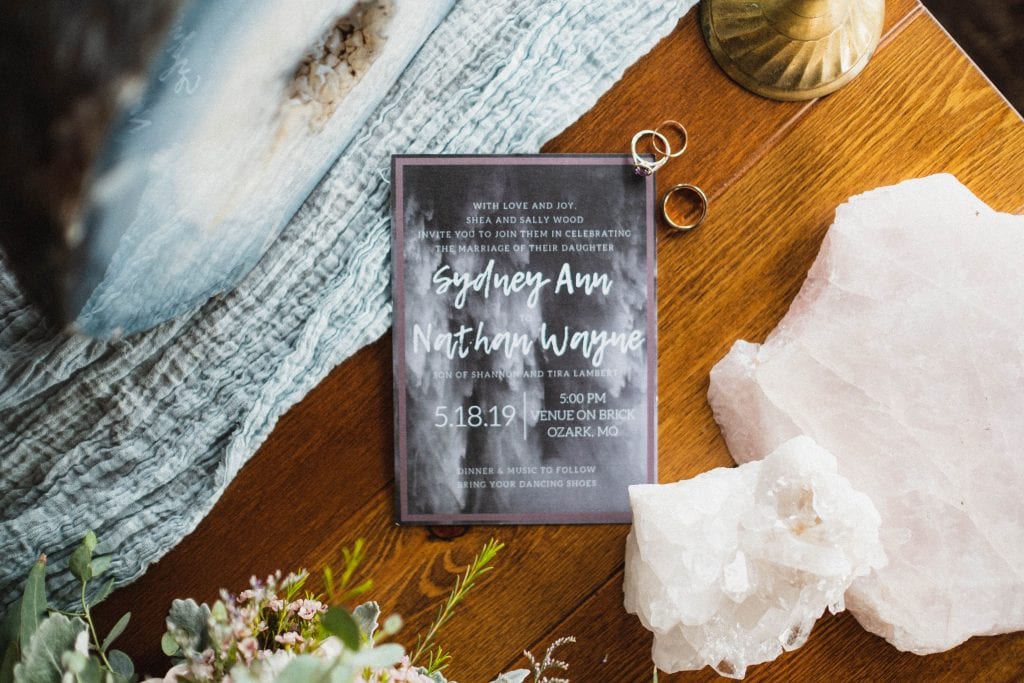 Sydney and Nate were married on May 18th, 2019. The big day came and went in a flurry. It was beautiful, plus the color scheme and decor were unique. However, Sydney did have her "something blue" – her hair! Every part of the wedding process went smoothly from securing the venue to hiring Sydney's hairstylist. Even so, days before the wedding Sydney became overwhelmed and her body broke out in hives. Thankfully, she was able to calm down before she walked down the aisle.
The couple are now happily married and living in Saint Louis. For any couples thinking of getting married, Sydney and Nate unanimously agree on one piece of advice: hire a wedding planner. Their wedding was beautiful, but they know they would have been less stressed had they hired a planner to help. Keeping an assortment of plasticware on hand for car picnics would be a good idea, too.
XOXO