Written by | Mary Sue Hoban
Photographed by | Kellie Michelle photography


Tori and Zach Carr have been married for more than a year, but their big day and the years leading up to it are clear, sweet memories for them both.
They met at a small get-together in January, 2016, when they were both college students. She went to a party with a friend. Her friend's date brought Zach and Zach's cousin. Tori spent some time talking to the more outgoing cousin, but quiet Zach was nearby. It took another group date to really break the ice, but then "Zach jumped ahead of his cousin to ask me out," Tori laughs. They started with a movie date the next week and were engaged by May, 2017. The couple married on May 19, 2018.
Zach had given Tori a lovely surprise engagement on the beach during a trip to Cancun with her family, but she didn't want anything unexpected on their wedding day. Now a Registered Nurse, Tori has always been well organized –"Maybe a little OCD," she jokes — and was willing to work. Zach, who is very artistic, also had a lot to contribute therefore they made many decisions together.
Family didn't just play a role in their courtship. The couple also looked to loved ones to help create their wedding and reception. Tori's aunt, Margaret Calliotte, has years of experience working with people planning events and was a natural as unofficial wedding planner for her niece. "She's great," says Tori. "She saved us lots of distress."
Tori had been collecting ideas for weddings and receptions for a long while – "I love Pinterest!" – and had some very specific touches in mind. She did surprise herself by changing course with her color choice. After much searching, she moved away from trying to find a certain shade of blue. She instead selected grey. "It ended up being just right." Her dress set the tone combining the elegance of lace with the bright surprise of bling. For flowers, she opted for white on white, also with a touch of sparkle. Bouquets and table arrangements featured white roses and white hydrangeas with crystals draped in.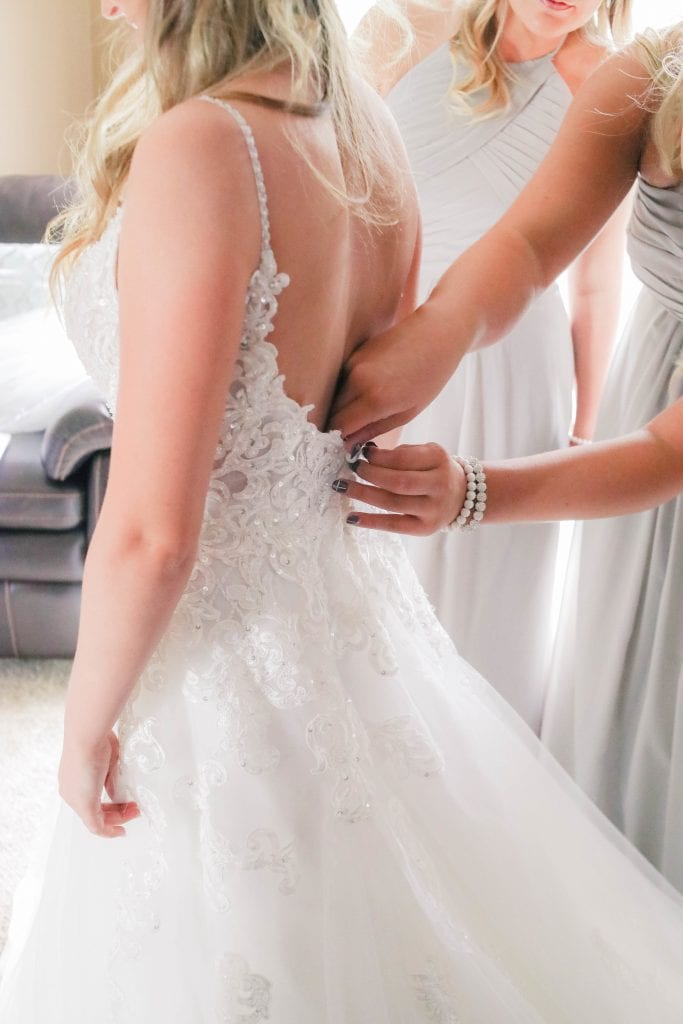 The late afternoon wedding had a traditional character. Tori's uncle, John Perkins, performed the marriage service at Second Baptist Church, including a unity sand ceremony. Another close connection was the videographer, who had been Zach's media teacher in high school. In a non-traditional choice, the bride asked her mother to walk her down the aisle. "My mother and I are very close. It was very important to me and it made an amazing moment even more special," Tori recalls.
The bride and groom each had five attendants. They were nearly matched in number by the flower girls and ringbearers who joined them. The little ones were great fun for Tori, whose passion is kids, and Zach, who has four sisters. "We could have had more, but we imposed a cutoff of walking age," Tori remembers. One of Zach's sisters painted wooden signs for the toddlers to carry down and back up the aisle. The "Here comes Mr. and Mrs. Carr" placard now hangs in the couple's home.
Highland Springs Country Club was their pick for the reception. Nearly 200 guests enjoyed a cocktail hour with hors d'oeuvres and later a plated dinner, dessert and dancing. There were personal touches here, too. They chose cheesecake for their wedding cake. The three-tier confection was made by Freckled Fig, the bakery owned by Tori's stepmother.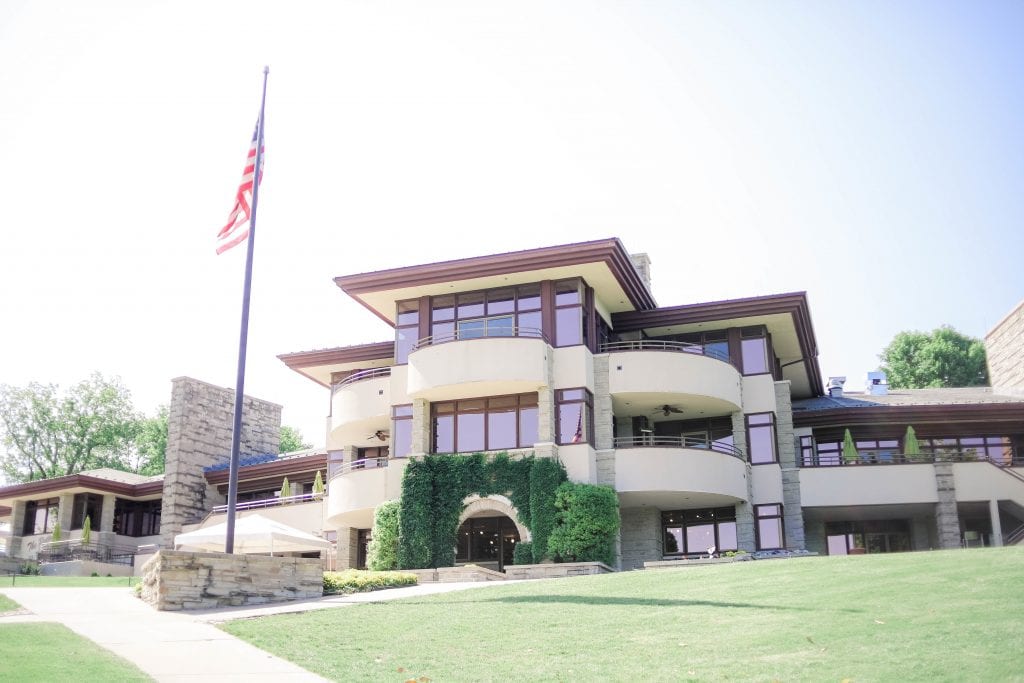 Highland was also where the wedding party enjoyed some highjinks. Before the reception, they gathered to take photos and then made the most of their access to the club's golf carts. Once they joined the reception, they held the traditional toasts, along with the bouquet and garter tosses. The group also staged a special moment for one of the groomsmen whose birthday was the day of the wedding. They convinced him they were all going to put bags on their heads and dance like no one could see. When he realized he was dancing alone, they surprised him with a big "Happy Birthday!"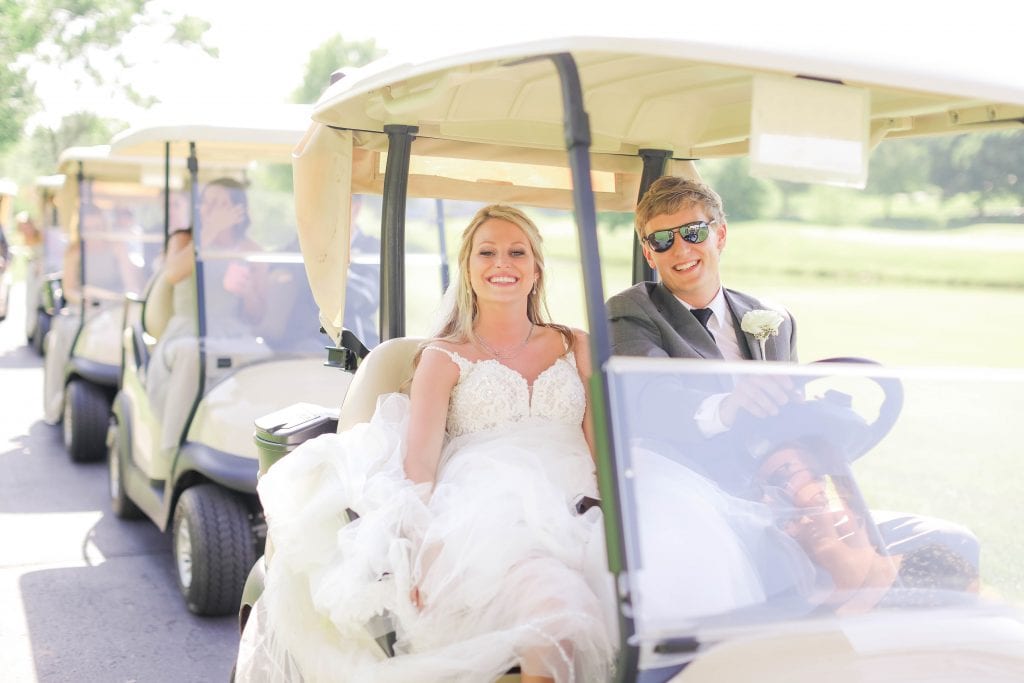 For Tori and Zach, some moments were especially moving and intimate, even amid all the ritual and fun. Perhaps the most vivid for Tori was their "first look" together before the ceremony where they exchanged and read to each other special notes that they had written. It was another in a stream of sweet memories they take forward into their life together.
XOXO