SPRING IS HERE! – and so is the new wedding season
I just LOVE spring, don't you?!? Spring is the time when me, as wedding invitation designer gets to set the mood for the upcoming weddings that will be happening this year! The photographers will take beautiful pictures, the cake will look (and taste) amazing, the dress will be stunning and the venue will be breathtaking, but the first to set the wedding mood…save the dates and invitations. I get so excited when I think about it! Spring is when invitation specialist are busy scheduling meetings with brides, talking about what they dream of and using design to set the stage for the wedding. I LOVE IT!!
What is new in wedding paper design? A lot actually! Here are just a few of this years fun new trends.
MAPS
Whether it is a separate card or printed on the back of the invitation, sending out a map of directions to the wedding location will be trending this wedding season! A map is a great idea if you are having guests coming from out of town or guests that are not familiar with the venue area. Your custom wedding design company can help you create a map that will be the perfect piece to seamlessly fit into the invitation from look to feel. Making sure to point out any tricky spots making sure your guests easily find there way to your wedding nuptials.
NAVY
Navy is in baby!! Navy with gold, navy with white, navy with blush, it is in!! Navy is definitely one of the top 2019 wedding invitation trends! Navy looks good with floral designs, chevron patterns, along with any shade of gold. Navy gives your guest the vibe of very classy and formal wedding. Gold Wedding Designs can help you create the perfect look for your invitations. I can also create other wedding items to match your invitations and keep the same design popping up through the whole wedding. Like this beautiful seating chart designed to match the navy floral invitations.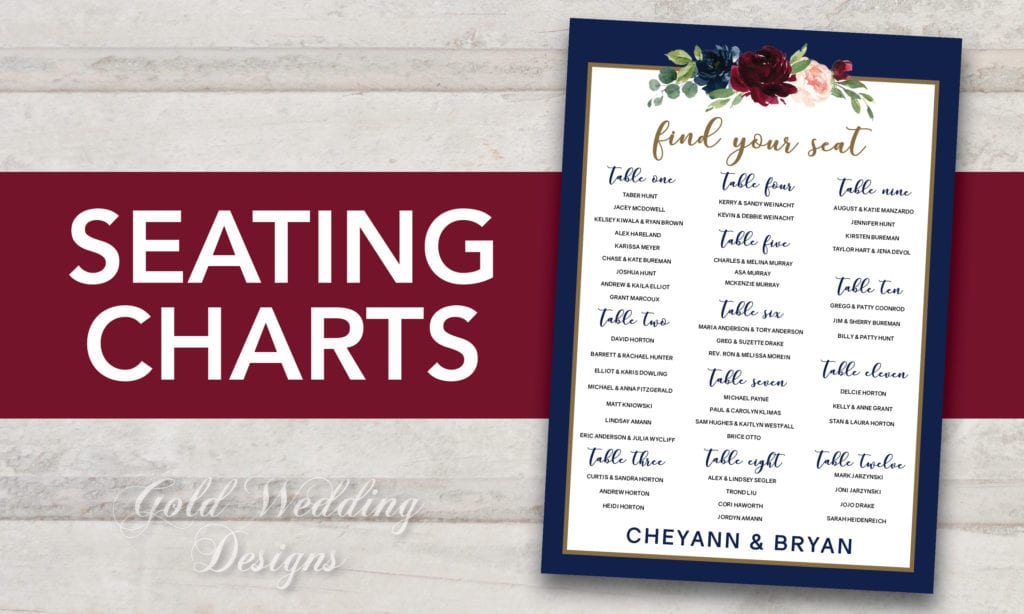 WREATHS & MONOGRAMS
Wreaths or garland wrapping around the first letter of her NEW name, is a wedding invitation trend for 2019. Wreaths have been trending in a variety of ways on invitations, but this year with monograms being so popular, why not mix them both together. Monograms with a fancy cursive script font is a simple, yet classy design for any invitation. That design can be carried throughout the entire wedding. This is one of my favorite trends in 2019!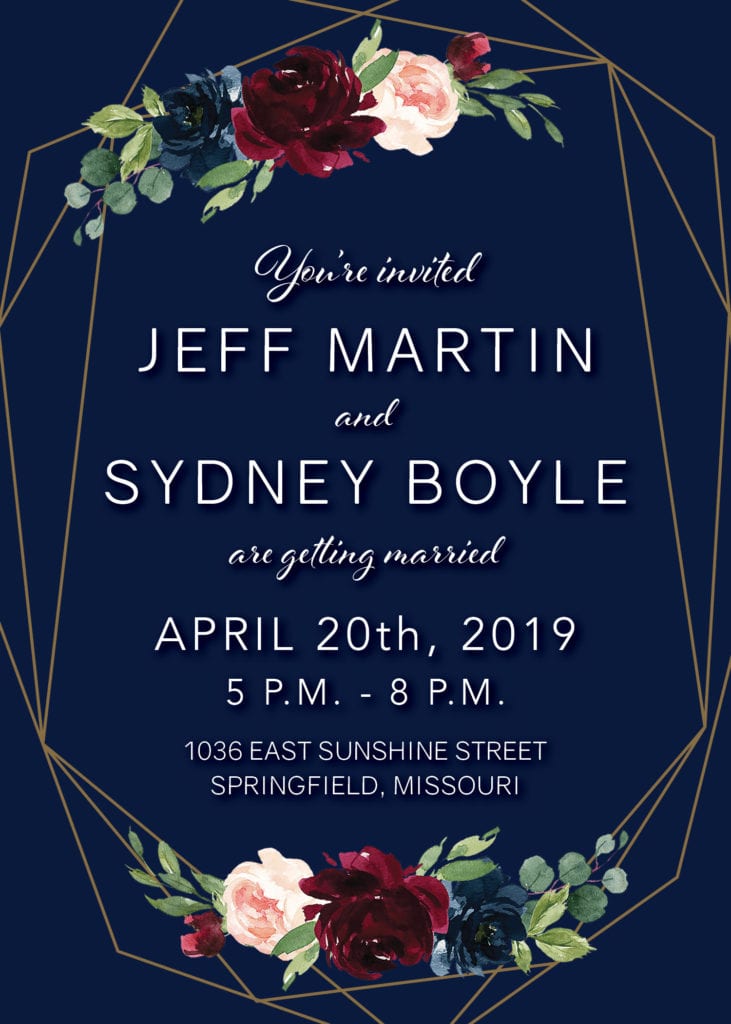 WATERCOLOR & GREENERY
Watercolor invitations are still popular, but this year greenery watercolor designs will be trending. Greenery designs come in a variety of ways, so whether it's a stunning blooming floral design or giant palm leaves, you will see more green this year. Watercolor invitations always present a classy feel for the wedding. Have your designer create beautiful custom greenery & watercolor invitations don't forget the RSVP's to match!!
WHEN TO SEND?
I get asked that all the time, when do I send out save the dates, when should I send out my invitations?? That is a great question!!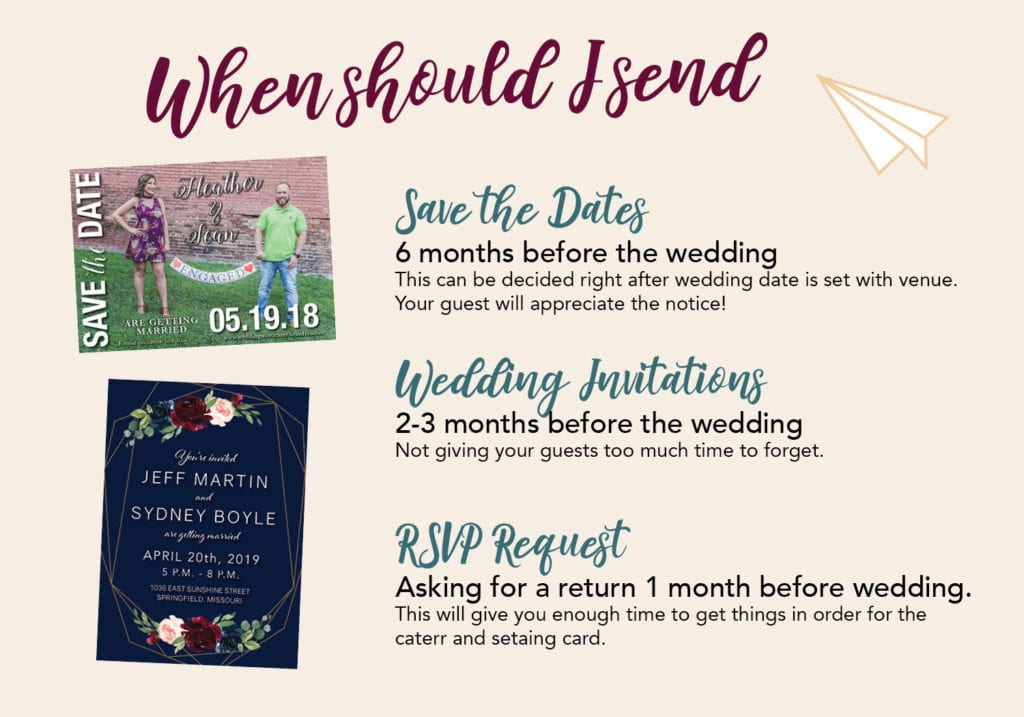 The Gold Wedding Design Process
I have several brides ask me, "Where are you located, where do we meet you and how does this work?" I always assure them that my process is painless and easy! We meet up at a designated place to go over the details of what I will need to get started on creating something special. Once I have a few designs ready, I send out proofs for proofing. Usually there are changes that need to be made before choosing the perfect one! Once a final design is chosen, we can meet up again to see a sample before printing or we can go straight to print. I take care of the printing too! Lastly, I schedule a time for delivery and payment, that is where we can talk about other creative ideas you have your wedding!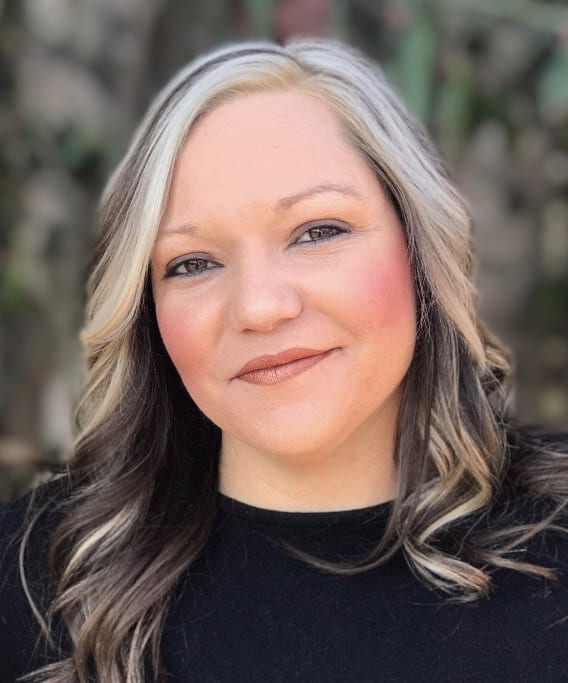 Meet the Designer
Hi, I'm Jacqueline Gold with Gold Wedding Designs. I design custom wedding stationary, wedding signs, and anything my brides want. I love designing and creating new things! I have been a graphic designer for a local print shop for over 12 years, creating a wide range of things. There is where I found my passion for designing wedding invitations. I love designing and making people happy. I really enjoy meeting with brides, finding out exactly what they want and creating something special just for them! Seeing their face light up and eyes sparkle when they get their invitations is such a rewarded feeling to me! Feel free to call and PLEASE leave message! Send me a text, email or Facebook message me.
www.goldweddingdesigns.com