Behind every unique wedding bouquet is a bride as striking and beautiful as the blooms she carries. Behind that bride is a team of floral designers working hard to achieve her dreams while remaining true to their own artistic visions and passions.
We have gathered a handful of creative florists and have asked them how they thrive in the industry while still keeping their ideas fresh.
Meet Linda's Flower's floral designer, Bobbi: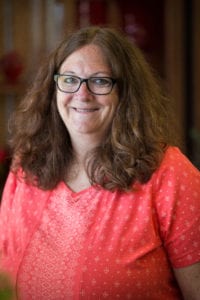 When Bobbi was a teenager, she said her parents had high expectations of her. "They both had college degrees, and expected me to go to college." She laughs, remembering that her father never got worked up about anything, except when she decided not to pursue a college degree. "He encouraged me to at least learn a trade," she says. Her love for art and plants led her to floral design school in St. Louis, and for the past 38 years, Bobbi has found her calling in the floral industry. "I got into flowers and never looked back, it's my love and passion, and part of who I am."
Bobbi has been Linda Flower's floral designer for the past 17 years, and says she has seen and done it all. "I've been in the industry so long," she says, "that trends are starting to come back." Bobbi loves color and learning how colors work together, and how specific arrangements photograph well. "Flowers aren't an afterthought," she says, of the importance of a bridal's bouquet. "They pull it all together, they take your colors and important elements and spread out through the photographs."
***
Where do you find inspiration? These days, Bobbi says, the girls come in prepared. "I love it because it gives me an insight, and I can look at that and go from there." She adds that she loves the details of weddings. "At Linda's, we are such a fresh flower business, so it allows me to specialize in what I love to do."
What is the most unique item you've used in an arrangement? Bobbi loves a good challenge. "I recently did one with kale..it was interesting!" She says a bride recently wanted to incorporate elements from her fiance's life, including sprigs of cotton and pinecones. When Bobbi finished the cascading bouquet, she said the bride had tears in her eyes.
What is your personal favorite flower? "Orchids of any kind are my absolute favorite," Bobbi says. "I had them all in my bridal bouquet, 36 years ago." She adds that at 19, she wasn't planning on doing her own wedding flowers, "but at the last minute, I took over. It turned out beautiful."