Do you have questions about when and where to open your bridal gift registry? These 7 tips from Dillard's Wedding Specialists will be able to help this potentially stressful process go as smoothly and efficiently as possible:
Timing your Registry
It is acceptable, if not recommended, to create your registry as soon as you get engaged. This allows your guests to purchase gifts for any pre-wedding celebrations, such as engagement parties or showers. However, six to nine months prior to you wedding date will be plenty of time and a good sweet spot.
Know your Guest
When scanning or adding gifts to your registry, be sure to add gift ideas of varying price ranges and styles so as to accommodate differing budgets and tastes of your guests.
Over Register
Add more gifts than your number of guests. Trust us, it won't seem greedy. Try to have enough gift ideas for each of your guests to bring at least two gifts. The more options the merrier.
Talk to Sales Associates
At Dillards, we are here to help you build your registry every step of the way. From setting it up, to after the wedding, our knowledgeable associates are here to answer any questions and keep you informed of new products and services.
Take Advantage of Perks
Many companies offer discounts and gifts when you register with them. When you register in-store at Dillards, you'll receive a copy of our new home planner, a complimentary cookbook, beauty samples, complimentary makeovers in our cosmetics department, complimentary gift wrap for registry gifts, and we offer a generous completion program; after the wedding, save up to 20% off the regular price of most items remaining on your registry.
Big Ticket Items
Don't be afraid to add big ticket items to your registry such as kitchen appliances or furniture. Your registry should also serve as your wish list for your forever home. And when you register with Dillards, you could save 20% off your more expensive items using our completion program.
Breathe
We understand that there's a lot of planning that goes into your big day, it's easy to get overwhelmed, but just remember to breathe.
We here at Dillard's, and the Experts at Metropolitan Bride, are here to help you throughout all the planning stages of your wedding process. We want to be able to alleviate some of the stress that goes into one of the best days of your life so that you can focus on the important things – the love between you and your partner and the joy of being surrounded by friends and family.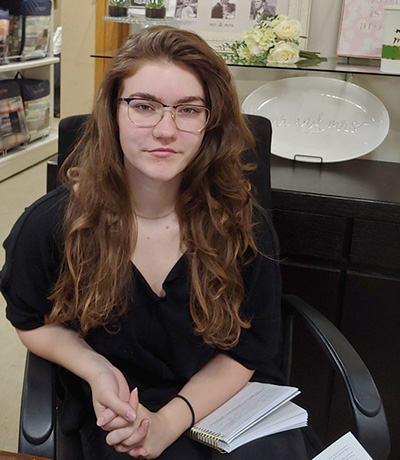 About the Author
My name is Tiffany Smith I am originally from Las Vegas, Nevada and I moved to Springfield a year ago from Summerville, South Carolina. I am currently working at Dillards in the Battlefield Mall as the Home Store Manager. I work hand in hand with Cathy Franco, our Wedding Specialist, and our whole team to help you every step of the way to design your ideal forever home.