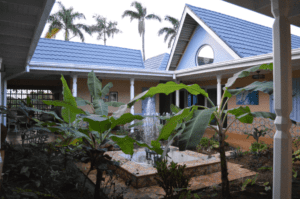 Planning your winter wedding honeymoon? When the weather is frigid and cold in Missouri, the private beach at Seven Palms Villa in Jamaica has a warm tropical breeze blowing in from the ocean. "It's so pleasant," says Ari Farley, rental coordinator for the villa. "The beach is a perfect spot to get married."
Seven Palms Villa, a four-bedroom, five-bathroom estate is set on two acres near The Jewel Runaway Bay Golf course, and has been a host to many family gatherings, including an annual summer camp. It's also a perfect location for a honeymoon or small wedding ceremony. "We are open to any and all ideas," Ari says.
During the summer months, Seven Palms hosts students during a two-week long animal camp, as part of a programming series offered through Cub Creek Camp in Rolla, Missouri. Owner Lori Martin and her family have been vacationing in Jamaica for years and are excited to offer their villa as a destination spot for newlyweds.
As a honeymoon locale, a new couple will have a hard time finding a more private spot to connect, than at Seven Palms. The grounds are lush and diverse, with a variety of flora and fauna that enhance guests' Jamaican experience. The fruit trees on the property, which include mango, pomegranate and coconut, offer shade and are a perfect spot for napping. A fresh-water pool and tennis courts, plus plenty of lounging space and a large kitchen make the villa an exceptional getaway spot. Ari notes that they also have wifi and air conditioning, an important factor for many travelers.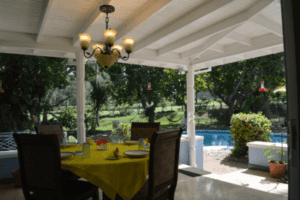 In addition to amenities one would typically find in a luxury resort, Seven Palms Villa has extra features that make honeymoon planning and traveling almost stress-free. The villa staffs two housekeepers, plus a driver, AJ, who picks up guests from the airport and doubles as a tour guide. "He knows so much about the island," Ari says, and adds that the housekeerps, Brenda and Tina are absolutely amazing. "They are sweet mothers and can help with childcare," she says. Seven Palms also staffs groundskeepers and a property manager.
Having stayed at the villa multiple times, Ari is excited to work with future guests and help make their trip a warm, breezy memory.
For help with booking, visit SevenPalmsVilla.Com or call Ari at 573-458-2125.