Your wedding day should be a day you treasure and love to look back on. Yes, delicious catering, a gorgeous venue, and unique theme can certainly help bring your vision for your special day to life. However, there is an often overlooked aspect that has a major impact on how your day goes: the entertainment! Your DJ is the one who will be interacting with your guests on the mic, maintaining the energy level in the room and on the dance floor, and the one who essentially has full run of the show! So how do you make sure you have the right DJ for the job? And how can you and your DJ craft a day that's full of memorable experiences? We've asked the event hosts from Elevate Entertainment to weigh in on how to make sure your wedding stands out powerfully as one of the most unforgettable days of your life!
To start things off, should entertainment at a wedding be a top priority? If so, why?
Broc: Absolutely! According to Modern Bride Magazine, 81% of guests remember one thing above all other things from a wedding six months later: the entertainment! Try this with me. If you think about all of the weddings you've been to, what do you remember? You probably remember the dress was white, the food was fine, and you probably don't remember the drinks. However, you almost always remember the entertainment. You remember if it was good and you also remember if it was bad. If you don't remember it at all, that doesn't speak well anyways! The only option is to have great entertainment. I believe the most powerful thing at weddings are the memories you make and a good DJ/emcee will be skilled at bringing those memory-making moments to life. Make sure to invest in those memories.
Josh: Yes, yes, and YES! In the long run, entertainment will be one of the things that people remember the most. The wedding cake comes and goes, other dinners will be had, and the drinks at a wedding are the same things you can find at any other bar, but the party is always different.
Zach: In my opinion, entertainment is the most important aspect of a wedding. Growing up as a pastor's kid, I found myself helping my dad when he would be the officiant of weddings at our church. I went to more weddings than I can count and for the most part, I found myself questioning how long was the acceptable timeline in which I could leave without being rude (lol)! And for the most part, that was because I was bored, especially being there as a kid, but the same was true as I grew older. When the time came for the bride and groom to be introduced and time for all the formalities, you already knew how it was going to go down. When planning your wedding, it's so critical to break that mold of the "traditional mindset" and create your own unique plan for a reception with the help of your DJ. Your DJ can assist in not only carrying out that vision, but even figuring out what that vision looks like! Invest in the entertainment, invest in your wedding – it's the biggest day of your life!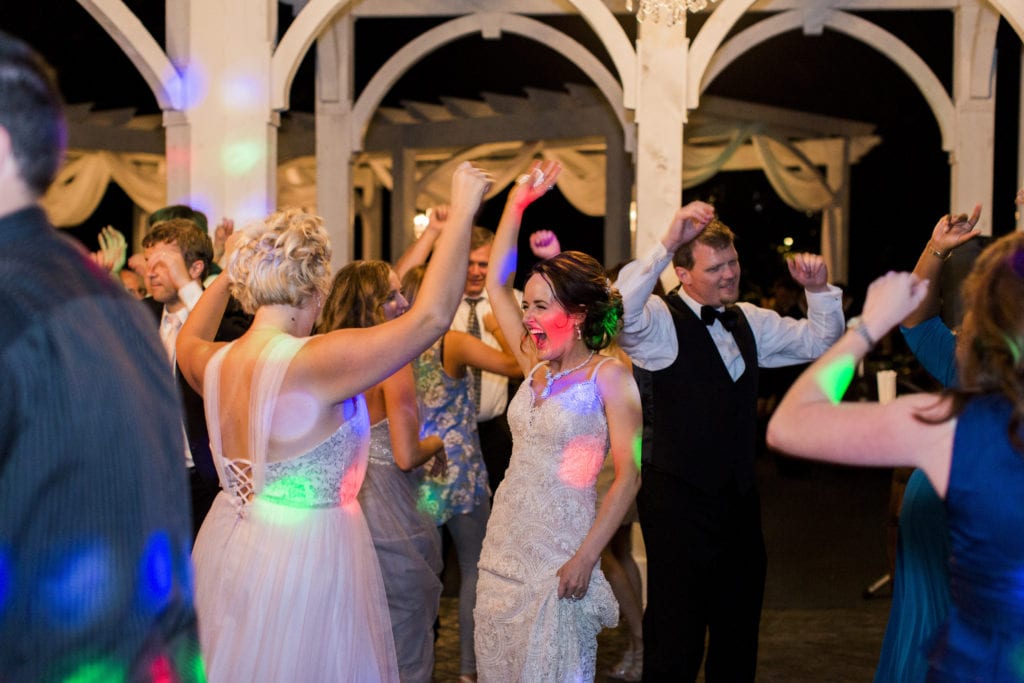 How do I go about choosing a DJ that is the perfect fit for my wedding?
Denny: Choosing a DJ is like finding a nanny. You want someone to nurture the reception, feed it, love it, clean it (okay, maybe not clean it, but you get what I am saying). Connection is key! You should feel comfortable with the person you choose to control the flow of the night. Find value in the experience they have by looking up their videos, pictures, or web presence. You wouldn't settle for the cheapest person from the neighborhood to be your kid's nanny, would you? Then why settle for the least expensive person who will control the most important night of your life?
Zach: Don't just look for a "DJ" – look for a person with a passion to serve others. It will change the entire outcome of your special day. Don't settle for the first DJ that you come across. Sit down with them, talk to them, and get a sense of who they are and what they represent. I'm 100% convinced that people can read people. You know when someone is in it for the money or if they're passionate about what they do. Also, word-of-mouth is huge. If you find a married couple that can recall the exact name of the DJ and not just the company they represent, that says something!
Broc: I can't say this enough: Don't start with price, start with personality! Then, move onto capabilities, and then lastly, look at price. Going about it this way will ensure you get a more well-rounded view of what their services are like. Meet the DJ, if possible. Make sure you like their personality and energy. Honestly, their personality is what will guide your event. If there's not a good connection there, then that person may not be a good fit for your wedding. It's also important to understand the breadth of what the DJ company does. Ask a lot of questions about what they do and why they do it. Not all DJs are created equal!
The guests at my wedding are a little more reserved and aren't usually the first ones out on the dance floor. How can DJs make sure everyone still has a great time?
Denny: Connection! Connection! Connection! People do not dance because they feel awkward or they have a false self-image of dancing. Getting to know people and talking with them from the start of the reception will help people feel at ease. Interaction with guests can be done in multiple ways such as conversation, ice breakers, and even connecting other people to help build your dance party.
Josh: A lot of people are more reserved these days, they don't want to be embarrassed. One of the biggest things a DJ can do is navigate music that makes all the guests feel included. I think it's also a big deal to not pressure anyone into getting on the dance floor, to let people move at their own pace.
Zach: I have learned that all weddings are different – brides, grooms, and especially the guests! With that comes the exciting challenge to plan out an event that will hone in on your guests and what makes them tick. I love the challenge of getting people in the mindset to have a good time. One of the best compliments you can receive as a DJ is "You had my father-in-law dancing and he doesn't do that!" Or "I've never seen this kid come out of their shell like that!" It's not super hard to get people excited, especially when it's an exciting day already! When you're all gathered together to celebrate two individuals that have fallen in love, that's exciting within itself. When you're able to get a room full of people to focus on celebrating the same thing, everything seems to fall into place.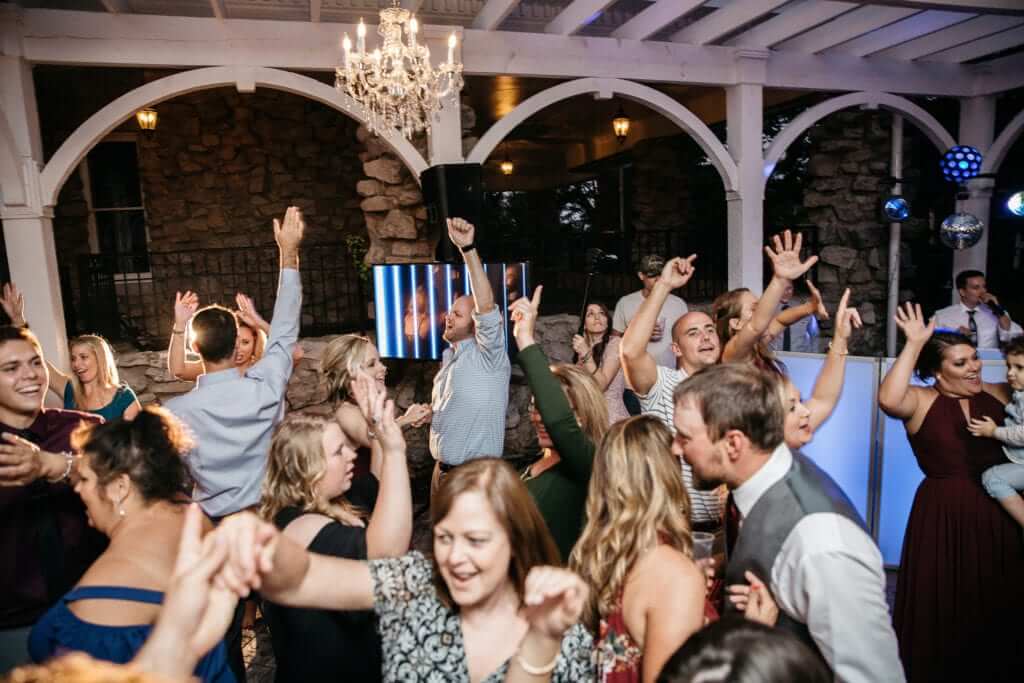 What are your thoughts on particular songs or music genres to avoid at a wedding?
Broc: For most weddings, it's important to keep the music audience-appropriate and family-friendly. The music we use at Elevate is radio edited. We gear it towards being clean and family appropriate. It's not to say we can't play "Get Low" but we try to save it towards later in the evening. I would also say that, it's a case by case basis because every event has a unique audience and that audience has a unique set of songs and genres that they like. Many DJs are just trained to play the Top 200 most requested songs and aren't too keen on complete customization of the music selection. This tends to create a lot of empty dance floor moments. We recommend highly tailoring the music so that we're specifically targeting your guests' favorites and keeping the dance floor full throughout the night.
Zach: Any songs that the bride and groom don't care for. Music is very powerful so I always like to check in with them to see if there's anything they can't stand. I personally love the fact that all of our music is clean. Guests of all ages can enjoy and dance to our tunes throughout the entire evening! I do like to stay away from "break-up" songs (lol). I mean, if we're celebrating a wedding, it just doesn't make sense to play those types of tunes!
Josh: Each wedding is different, so I don't think there is a universal genre to avoid. It's important to play music that people relate with and can dance to. One type of music I get a lot of requests for are the "driving in the car songs" – songs that sound great, but you can't really dance to. Typically, those aren't the best types of reception songs.
What should couples keep in mind when planning their ceremony and reception?
Josh: I've got a few areas I think couples should consider. One is what I call the "emphasis factor". Where do you want your emphasis to be? The ceremony? Reception? Cake? Dance floor? The next would have to be guests' comfort level. If it's mid-July and you're having an outdoor wedding, maybe consider having it later in the evening… no one likes to sweat through a ceremony! And finally, have a back-up plan! With the weather the way it is around here, sometimes it's important to have a back-up plan in case that garden wedding has to be moved indoors.
Denny: Keep in mind that yes your wedding day is very important, but it's also a natural day you get to share with friends and family. You're not an actor, you should be you. Don't overthink everything. Let you and your partner's personalities fly and allow your guests to see how great you are together. Plan moments that will make you both the center of attention. Guests don't really care too much about what food you have – they came to see you! Be in the moment, let your love shine in that moment. Find vendors who will capture your vision and allow your day to be stress-free.
What would you say is the best way for couples to make sure their wedding is the most memorable day of their lives?
Broc: The biggest thing is to start with the end in mind. This seems obvious but you'd be surprised by how easy it is to get off track. For example, if your goal is for your wedding to be a non-stop dance marathon, then don't start it off with a formal experience. If you walk into a wedding and there's a stiff feel to it at the beginning, it'll be harder to transition people from that vibe to the dance party you want. Formulate and build the event with your end goal in mind, so your vision for your day can really come to life!
Denny: Book the best. Yes, I know it may not be budget friendly, but find wedding professionals who work for you and make the night stress-free. Have your photographer or videographer capture special moments so you can look back on them. Live in the moment and love it!
Zach: I love when brides and grooms have a vision of how they want their wedding to be. I love asking this question to couples: "Lets say your family is sitting around a table six months after your wedding and they're talking about your wedding. What would you want them to say about that day? So & so's wedding was so…?" And then I have them fill in the blank. What memories do you want created? What moments do you want captured? How do you want that day remembered? Once they can answer these questions, you and your DJ can craft your day to fit that specific vision!

Facebook: @elevatedjs
IG: @elevatedjs