Weddings may have evolved over the years, but good etiquette is timeless.
In the hustle and bustle of planning for your big day, there are so many details to keep in mind without losing your mind. By applying the timeless Golden Rule throughout every part of your wedding planning, you will ensure a thoughtful and personable event. One that the special people in your life will remember for years to come.
INVITATIONS
"The invitation will be what sets the tone of your wedding," says Mary Long of Maxim Creative Invites. "In the past, etiquette was that the parents of the bride would host and pay for the wedding. As time has progressed, that practice has changed. It is more common to part from traditional wording and opt for unique and personalized wording that reflects who you are as a couple."
Whether or not you choose a more traditional route or go down a contemporary path, Mary has a few timeless tips on how to create and send a thoughtful invitation for your guests:
Be Timely!
"Send your invitations at least 6 to 8 weeks before your wedding date to allow your guests time to plan," Mary says. "If you are having a destination wedding, send invitations 3 months before the wedding. I also recommend that save the dates are sent out 6 to 8 months in advance for destination weddings or couples that are expecting their guests to have to travel."
Make Them Personable
"Handwritten addresses give that personal touch," Mary says, adding that a calligraphy-style writing has become a trendy and artistic way to write names. She notes that guests' names should be written in full, with appropriate social titles, such as Mr. and Mrs.
While e-mail and website responses are becoming more common, Mary says they are not considered proper etiquette. "Many older guests may not use computers often and this method of response can cause confusion."
Consider Your Budget
Whether you are paying for the invitations or they are taken care of by a family member, keep your budget and time-frame in mind. "Proofread your details very carefully before finalizing your order," Mary says. This ensures a beautiful invitation the first time around, without need for reprinting and corrections. All of that can delay addressing, collating and mailing. "Don't be afraid to ask your wedding party for assembly help," she adds.
SAVE THE DATE
Once you have your wedding date locked in, you will want to let your loved ones know so they can mark it on their calendar. It is especially important that you send a save the date to guests that will be required to travel. They will need to plan around your date, so for them 8-10 months is a good amount of time. You don't need to know all the specifics of your wedding just yet. As a matter of fact, keep these short and sweet. Let them know: The date, city and state, along with your names of course. If you have a wedding website you can put this on here too, then they are able to keep up with you during the planning process. Let them know a formal invitation will follow!
The save the dates need to go to all of the loved ones you are sure will be attending, even your parents. Etiquette says, everyone you have sent a save the date to needs to receive an invitation! So, don't go overboard with casual workers or collage classmates. You may or may not be close with all of them ten months from now.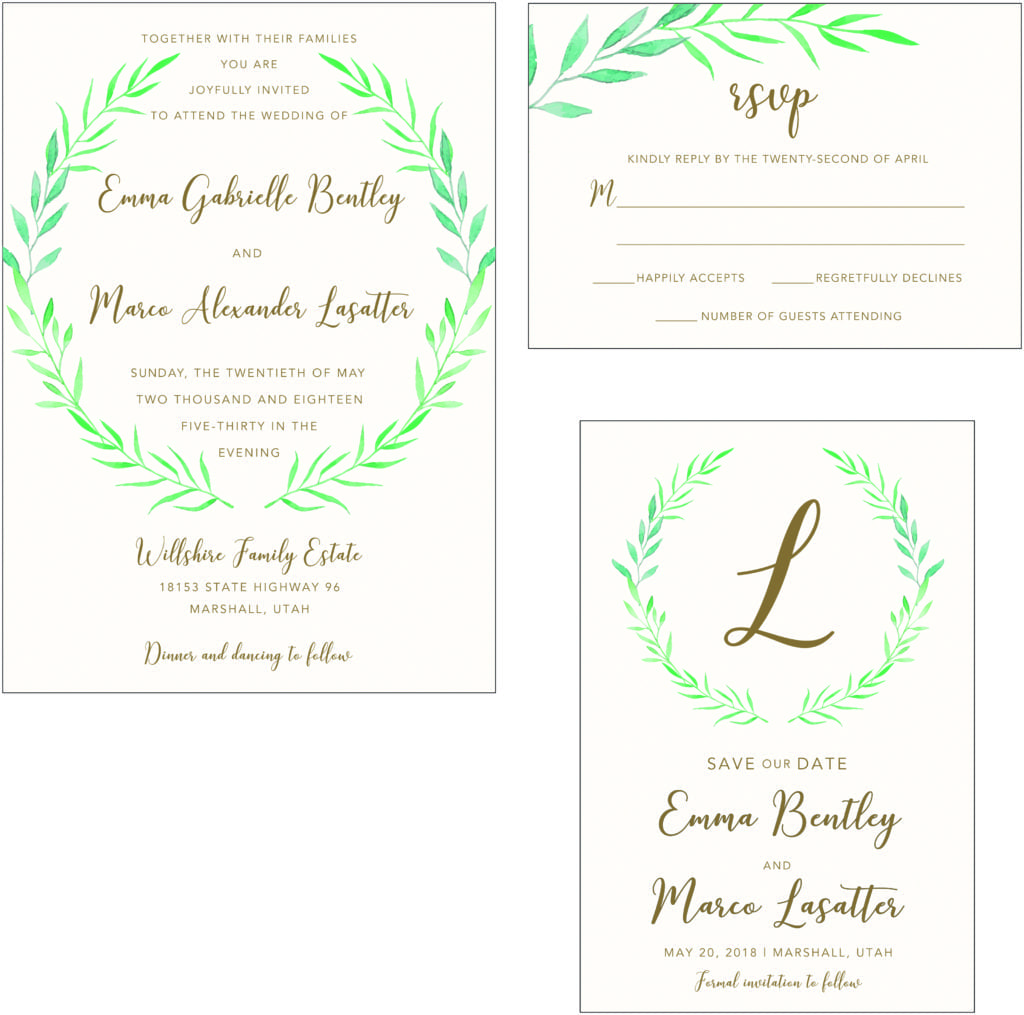 RSVP's
While they are totally necessary for most events to run smoothly, not everyone holds RSVPs in great importance. During the hustle and bustle of regular life, RSVPs tend to get lost in the shuffle. In order to plan ahead, it is nice to know who all you are hosting however. Here are some hints for how to receive your RSVPs in a timely fashion:
While e-mail and websites can be convenient and cost-effective, the best way to ensure your most response is with pre-stamped response cards.
Include alternative ways that guests can respond, such as via text or e-mail, if you know your guests will prefer that method. Be clear on the date in which you need your responses. Give yourself two to three weeks ahead of your wedding to allow for preparations for all of your guests.
Following up via e-mail or a phone call can help remind guests to let you know if they will be attending or not.
PLUS ONE
Depending on your budget, the approach for additional guests at the wedding may be lenient or strict. Both are completely acceptable, but once you have decided on a rule, stick to it for all your guests so there won't be any hard feelings. The exception to this rule would be your wedding party. Usually they would be allowed to bring their date as a thank you for begin a part of your event.
Who is invited? It starts with the envelope. How you address the envelope is their incite into who made the guest list. Here are some language tips to help you communicate who is invited:
Families
If you are inviting guests with a family, but you would like only the parents to attend, then list their full names without the names of the children. If you are open to kiddos at your wedding, you can list each of their names or say 'and family.'
Married
The rule of thumb – they are both invited. In this case, you would list both of their names on the invitation.
Living Together
The modern rule on this commitment of relationship is that they would both be invited, but ultimately it is up to you. In the case both are invited, put both of their names on the invitation.
Dating
The rule here would be keep it consistent. If you are allowing your guests to invite a guest, then your envelope should reflect their name 'and guest.' Or if you are keeping to a more intimate gathering, you can omit non-committed 'plus ones' all together. In that instance, address it to the attendees name only.
If you are using the traditional envelopes with an outer and inner envelope, you should address head of household on the outside, then list the names of those invited (as listed above) on the inner envelope.
Once you and your fiancé have put a plan in place, stick to it! Your friends will have a great time at your event with or without a date.
THANK YOU'S
A common question is, "How long is too long to send thank-you notes for gifts received?" The standard has typically been no longer than three months after receiving the gift, but in today's world, where gifts can be ordered and delivered months before the wedding, the answer should be "the sooner the better."
Follow similar advice as you did with your invitations. Be prompt and personable. In addition, here are a few Do's and Dont's to keep in mind as you write:
DO acknowledge receipt of shipped gifts as soon as they arrive. That way the sender won't be wondering if their thoughtful gift was lost in the mail.
DON'T send form letters or cards that have a printed note inside, or use e-mail or your wedding website as a platform for gratitude.
DO mention how you'll use the money, if sent. Adding the amount is an optional choice.
DON'T delay. If you want to add photos, but it will postpone the notes, send those at another time.
DO write a note even if you thanked the giver in person. If it was a group present, everyone who contributed should receive their own note.
Thank-You Notes go beyond just those who bought a present. Throughout the planning process, there will be countless people helping make your wedding a success. The Emily Post Institute suggests keeping the following people in mind as you work on your thank-you notes:
Your Bridal Party
Include a personal note along with a gift of gratitude for all the help and support they provide.
Shower Hosts
Anyone who hosted a party or shower for you – ideally within a few days. Make sure they receive an in-person thank-you, as well as a written note.
Traveler Hosts
If someone entertained or welcomed guests into their house, specifically for your wedding.
Wedding Hosts
Your parents or whoever helped host your wedding.
Above and Beyond
People who show unexpected kindness such as a neighbor accepting all the wedding gift packages you receive while at work.
INVITATION DESIGN BY: Maxim Creative Invites
www.maximcreativeinvites.net