Your wedding is one of the most meaningful, impactful days of your life. But how can you make your wedding day less impactful on the environment? The average wedding produces 400-600 pounds of trash and 63 tons of carbon dioxide in just one day. Everything from where you have your event, to the food you serve, the clothes and jewelry you wear, the flowers, decorations and more all make an impact on the environment. Here are some of our best tips to be more eco-friendly and make your wedding, like your marriage, a sustainable one!
First is the venue. If you choose to have a destination wedding, expect a large impact on the environment by having your bridal party, family and friends travel to a far-off exotic location. Instead, think local! The 417 area has an abundant amount of amazing venues to choose from, many outdoors, incorporating the natural beauty of our area. Communicate your desire to have an eco-friendly wedding with your vendors and ask questions. You can save energy by cutting down on the amount of lighting you will need and use natural light by timing your wedding during the day. Besides, some of the most beautiful photographs are outside – thank you, sunshine!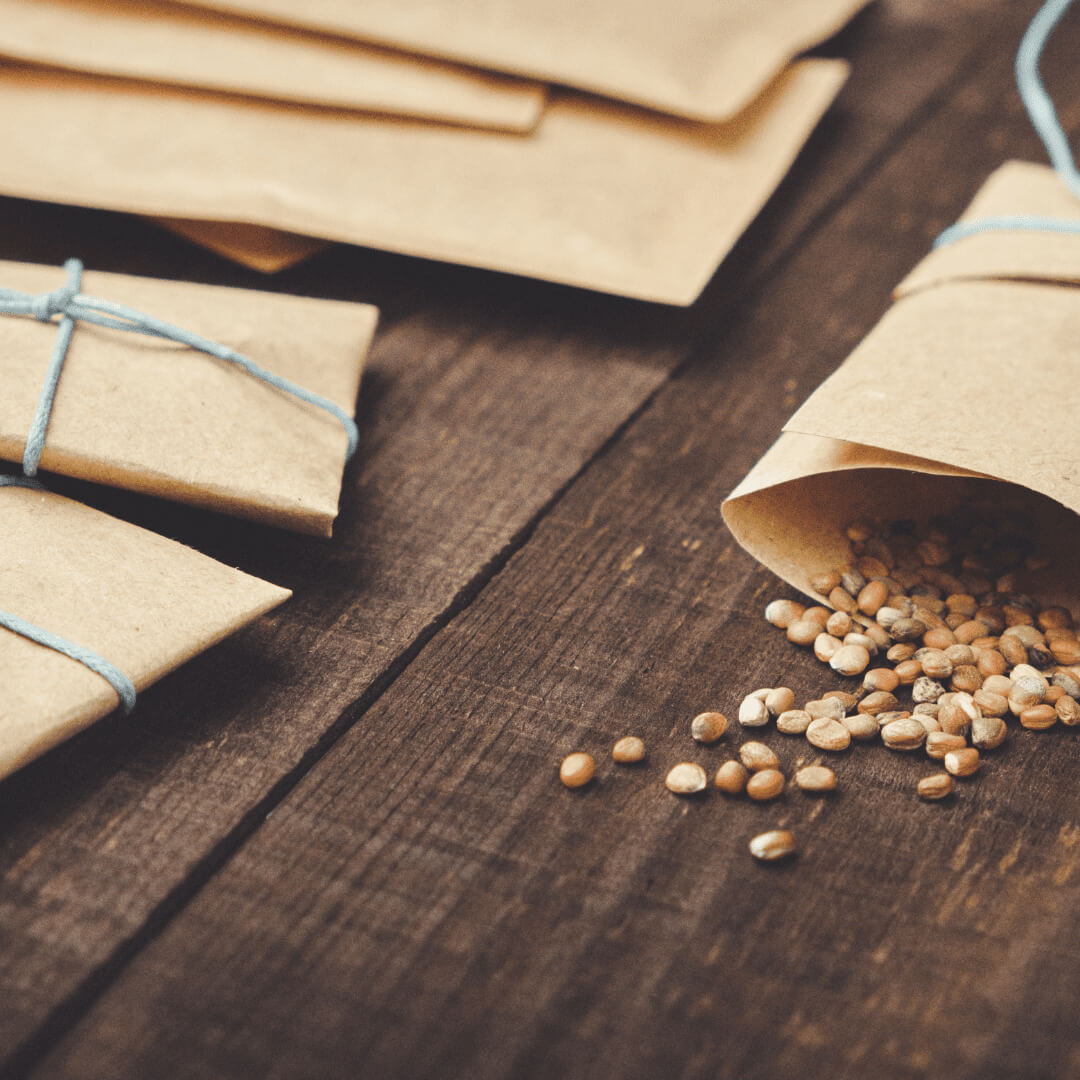 Set the tone of an eco-friendly wedding with your invitations, programs, menus and thank you notes. Have you considered seed paper? Seed paper is biodegradable paper that sprouts into flowers when planted in soil. What a great reminder to your guests of your sustainable wedding when they see beautiful flowers blooming later in their yard! Or choose recycled paper for your printing needs or even use a company that plants a tree in your honor for every purchase. Both Kayla Sheets, owner of Signature Event Rental & Coordination and Cassie Priest, owner of Vintage Rental Co. also suggest going paperless, at least for the RSVPs. By using a website to collect RSVPs, it is an eco-friendly game changer! You cannot not only save on printing and postage, but most brides actually get a better response than having mailed a written RSVP card. 
Next up, your attire. Many eco-friendly brides are wearing heirloom or vintage dresses. Or ask your bridal salon which designers they carry that use eco-friendly fabrics and focus on ethical production of their dresses. Grooms can rent a tuxedo or suit, or even wear one they already own, lessening the impact on the environment.
Jewelry. Have you seen Leonardo DiCaprio in his movie, "Blood Diamonds?" Yikes! Talk with your jeweler about only using a sustainable diamond, there are so many options now from lab grown diamonds to upcycling vintage or heirloom jewelry. Jewelers like Cornerstone Jewelry can take old jewelry that you do not wear or was donated to you by a family member and create a unique piece, designed especially for you. Luisa Smith, owner, says "Anyone can buy something new, but to carry on a family legacy and memory is so important. We specialize in taking heirloom pieces and recreating custom designed jewelry." Recently, Luisa had a couple who brought in diamonds from 3 different women in their family and gold representing 5 different generations from which they then created beautiful engagement and wedding bands for both the bride and groom. Not only is this heirloom jewelry eco-friendly, but it also involves no mining, less waste and less impact on our environment. Cornerstone Jewelry also offers natural diamonds that are fair-mined as well as lab-grown diamonds. Technology has perfected ways for companies to take a sliver of a natural diamond, re-create the exact pressure, temperature and environment in a lab to grow more diamonds, eliminating mining and tragic natural consequences. These lab-grown diamonds are chemically a real diamond, and it is impossible for the average person to tell the difference. If you choose not to have a stone in your wedding bands, using gold, platinum or silver is more eco-friendly than using alternative metals. Alternative metals cannot be resized or changed, whereas gold, platinum and silver, which can be found naturally, can be changed or reshaped, allowing you to wear it for years and years. 
Now, let's continue to think green. Flowers always add a special touch to your wedding. By choosing local blooms, you create less waste in packaging and less gas in transporting your florals. If you are going to use fresh flowers, choose seasonal blooms native to your area. For example, exotic orchids grown in tropical rainforests and transported here to the Midwest will have a much larger eco-impact than shasta daisies, sunflowers, peonies or roses grown at a local farm.  Meagan Crawford, and her team at Flower Power Acres grow their own flowers from seed. They offer over 60 different varieties of flowers and at least 40 varieties of sunflowers! Flower Power Acres is dedicated to protecting the environment and uses organic fertilizer and organic insecticides to create these gorgeous blooms for wedding arrangements. They also have a high tunnel greenhouse which allows them to get a headstart on locally grown flowers in the spring. Meagan says if you want to cut costs as well as be eco-friendly, you can opt to use only their farm-grown flowers. They also offer DIY – you pick up buckets of flowers and then you and your bridal party can have fun creating all of your own bouquets and arrangements.  Keep in mind what is blooming during the season you are getting married. Trying to find local sunflowers in December will be a "Mission Impossible!" But a beautiful arrangement of greenery and berries for a winter wedding is a possibility. Another trend she is seeing in Midwest weddings are brides using dried flowers. Flower Power Acres offers a variety of dried flowers which can complete your boho vibe.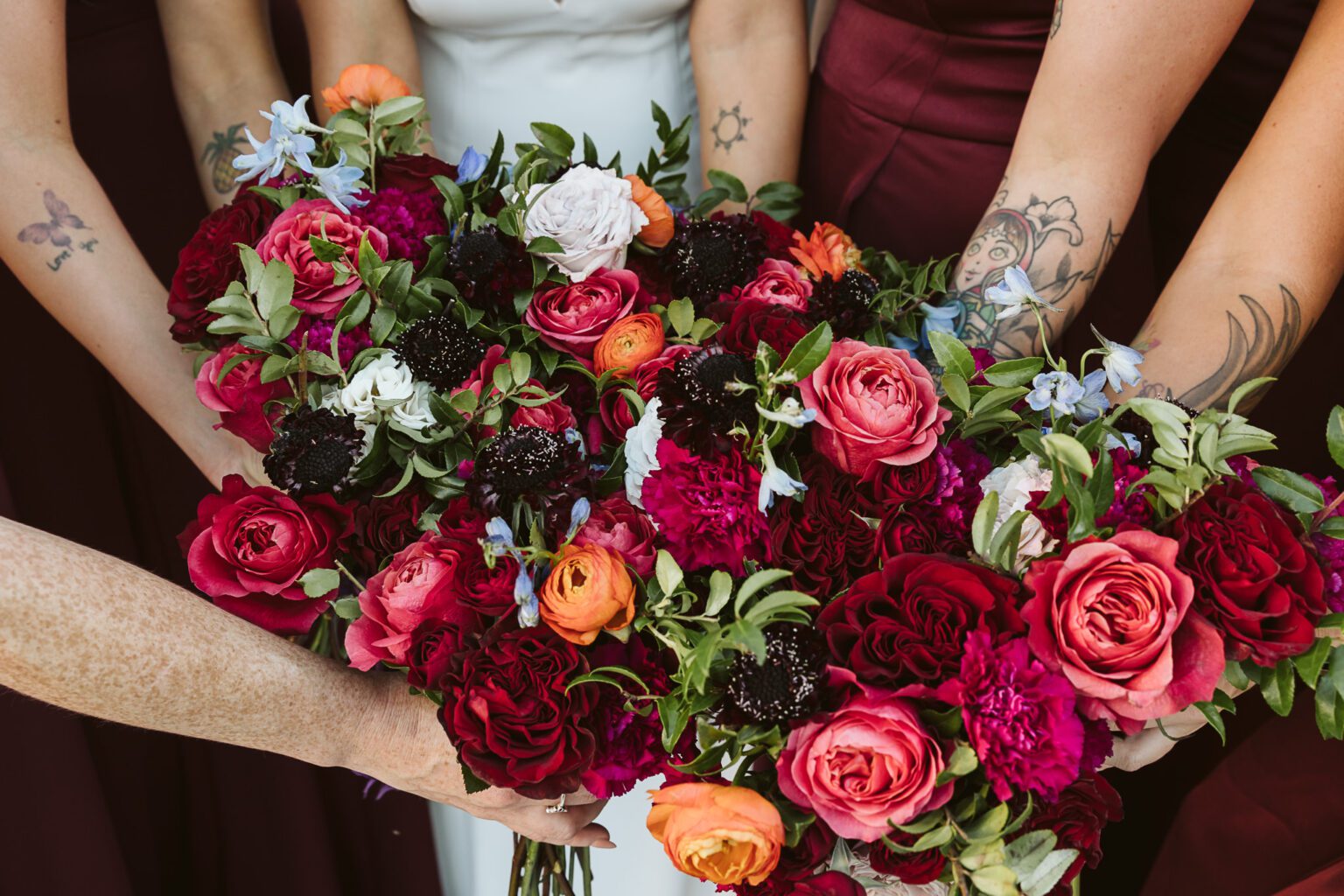 Autumn Ponsar, owner of Finn and Olive Florals, also suggests using a florist who sources flowers locally. After your wedding is over, consider donating your arrangements to a local nursing home, hospital or church or ask your florist about composting your flowers after your wedding day. Finn and Olive Florals use a company that will give a second life to floral arrangements after a wedding. They come pick up your flowers and take them to another event with a similar color scheme. Autumn recommends using fresh flowers because they naturally decompose after use, whereas fake flowers will ultimately end up in a landfill. If you must use fake florals, Autumn suggests renting them. Kayla of Signature Event Rental & Coordination has a wide variety of fake flowers or florals which can be rented. By reducing waste and renting garland, table arrangements and even bouquets, corsages and boutonnieres for your wedding, you can reduce your carbon footprint. Today's fake florals are very realistic looking! Cassie at Vintage Rentals also offers a variety of stylish, but generic signs that can be used for your wedding, eliminating the need to create more that would be thrown away after one use. Or she suggests using a chalkboard sign! There are lots of chalk pens and stencils available to make your signs look professional. 
Can the food you serve at your wedding have an impact on the environment? Absolutely! Many eco-friendly couples are choosing to only serve vegan or vegetarian dishes. Plant-based meals consume fewer resources than dishes that are animal-based. Catherine Bersted at Aviary Falls Cafe is passionate about using locally-sourced food and drink. Being situated right next to a farmers market, she is able to use and find fresh, seasonal ingredients. Catherine says, "You save on not paying for fuel and shipping costs, as well as help sustain your local farms. Accountability to our area is really important!" Aviary Falls Cafe has many options that can help you create a plant-based menu that is designed around the current growing season. 
Even the dessert you choose can have an impact. Rachel Weiner, owner of the Frosted Fox Bakery, only serves vegan desserts. All of her ingredients are grown organically or are sourced from free-trade vendors. She can decorate your perfect wedding cake with sugar-based or biodegradable flowers, or even use some of the extra smaller blooms from your floral arrangement to adorn your cake. If you are wanting to have a dessert to compliment your sustainable wedding, be sure you use vendors like the Frosted Fox to lessen your impact on the environment. 
Here's a biggie – your tableware! Disposable plates and flatware can create huge amounts of trash for our landfills. Consider renting all of your tableware needs like plates, flatware, glasses, serving utensils, chafing dishes and table linens. Vendors like Vintage Country Rentals and Events or Vintage Rentals can create beautiful tablescapes, lessening your wedding's impact on the environment. Cassie Priest at Vintage Rentals even suggests going beyond the individual place settings and using large drink dispensers and glassware rather than serving drinks in single-use bottles or cans to reduce your impact on the environment.
For your guests, consider giving edible wedding favors. Nuts, chocolates, cookies and candies are always popular. Cassie at Vintage Rentals even had one bride give away jars of local honey with information about protecting the bee population. Catherine at Lavender Falls, a local lavender farm, has lavender hand sanitizers, lip balms and a variety of locally grown, locally sourced products that make the perfect eco-friendly favor. Do you need eco-friendly gIfts for your wedding party? Instead of the plastic bags to protect dresses and suits, consider a trendy cloth garment bag. We promise, your bridal party will love it! How about giving your bridal party personalized reusable cups with metal straws to be used throughout your wedding? They will get a lot of use afterwards as well!
Your send off does not need to be harmful to the environment either. Ditch the rice, glow sticks or sparklers and think dried lavender, flower petals or even just a photo op send off, adding a unique and memorable finale to your wedding. Lavender Falls sells lavender fresh or dried by the pound. Ahhhhhh – we can practically smell its heavenly scent!
An eco-friendly wedding is easy to do with small changes that can help make a big impact on our environment. Just like your marriage, make your wedding a sustainable one!
Written by: Meg Daniel