Are you looking for a total game changer at your wedding? You need to have a lighting expert use their tricks of the trade to transform your event from Beautiful to Wow! From ambiance lighting to spot lighting to cold sparkler fountains and even dancing inside of a cloud, the right lighting or effect can set the mood and elevate the entire atmosphere at your event.
Dennis Cox, with Live Events Missouri, has been a "lighting nerd," as he calls himself, for over two decades, creating magical, fun events for southwest Missouri brides and grooms. While Live Events Missouri offers DJ and officiant services, photo booths and more, the lighting, cold sparkler fountains and clouds can turn your wedding from just another event to a wedding to remember.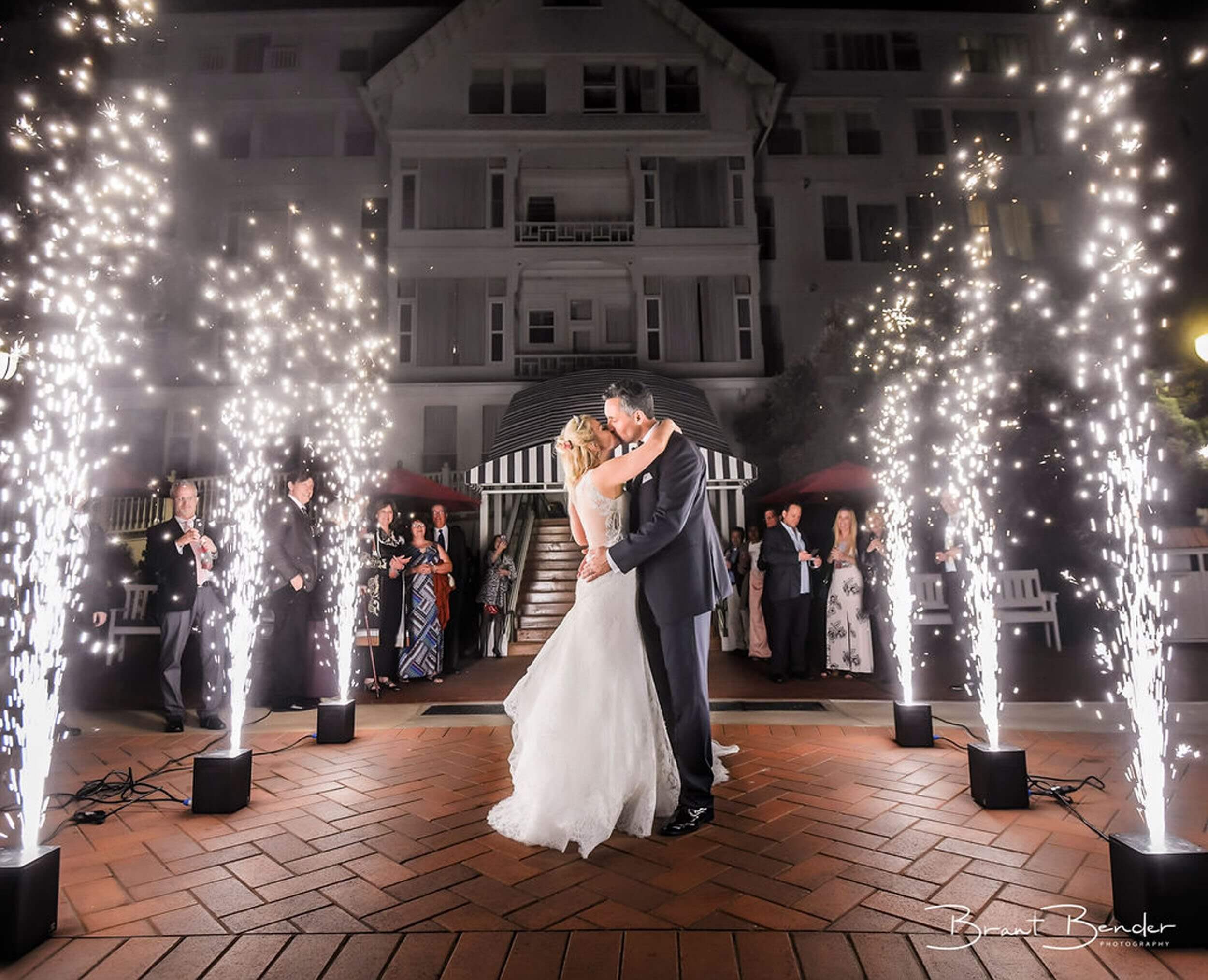 If you are looking for something new and hot (well, not technically warm) that will leave your guests marveling, you need cold sparkler fountains! Your guests, your photos, the entire room will be elevated by this relatively new technology. Cold sparkler fountains can shoot sparks up to 15 feet in the air that are not a fire hazard. These fountains will not harm your venue nor your beautiful decor and guests can touch them as they explode. The sparks come out at 68 degrees, there are no gas lines and it is a great alternative to pyrotechnics. Want to enter the dance floor with a burst of excitement? Cold sparkler fountains. Want sparks to fly at the first kiss? Cold sparkler fountains. Want a unique send off with magical photos? Cold sparkler fountains! Dennis has used cold sparkler fountains at weddings and even events for Missouri State University with 15,000 people in attendance. As he says, "Cold sparkler fountains are a total game changer. They are just beautiful." These fountains are electronically preset and can turn your first entrance as Mr. & Mrs. into a grand entrance. There is no smoke to interfere with photos, they are not hot and it is guaranteed all of your guests will be talking about this jaw-dropping effect on your wedding day. The team at Live Events Missouri are seasoned veterans in using this technology. They are very meticulous and know how every piece of this unique equipment works. As Dennis says, "We have done all the homework and work hard to ensure the presentation goes off without a hitch."
One couple recently used cold sparkler fountains at their reception. The bridal party was announced and walked in individually, but when it was time to introduce Mr. & Mrs. for the first time, it was like "time stood still," remembers Dennis. The lights dimmed, the DJ announced the newlyweds, the doors flung open and the cold sparkler fountains blew magic into the room as the couple walked though. It was the perfect photo op for this enchanting moment.
Your wedding can also be transformed with the right lighting. You can transform a huge space into a cozy one. Or maybe you need to make a small space seem bigger.  As seasoned lighting expert Brian Ranft of Ozarks Creative Productions says, "Of course there aren't many guests who will attend a wedding and think, 'Ooooh, look at the lighting,' but what lighting can do is highlight the details the couple has worked so hard to execute." By using a lighting expert, you can add ambience lighting with wireless and remote controlled fixtures that do not take up space or create trip hazards with cords of wires hanging around. Uplights can change a room from just okay to a wonderland. Or maybe you want to increase the fun after the ceremony and have a spotlight or club lights to get the party started, your lighting expert has just the perfect equipment. Lighting packages typically start at $200 and can elevate your wedding to the next level.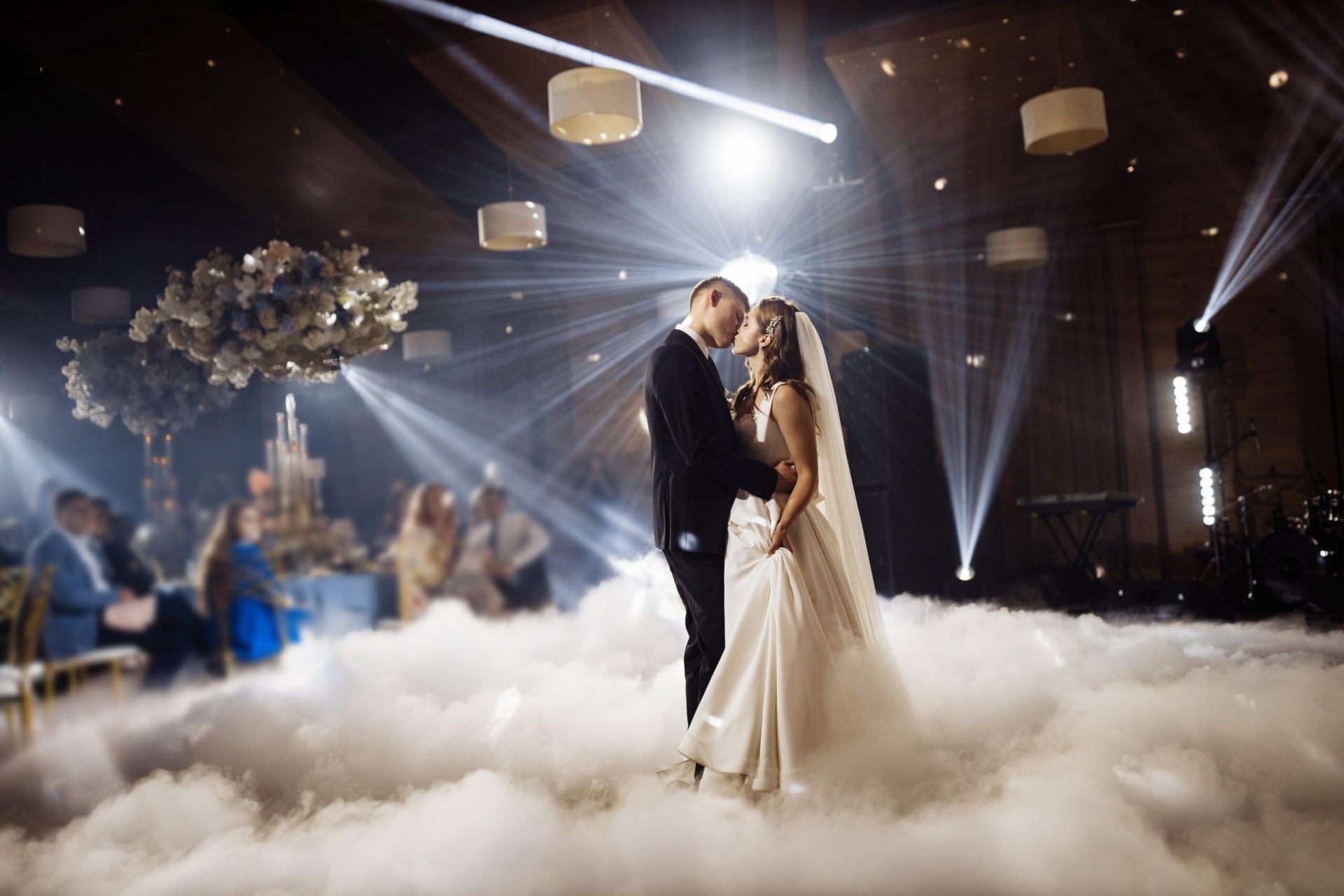 Speaking of elevating, we know you are so in love that it feels like you are walking on air. How about a first dance in the clouds? Live Events Missouri offers cloud dancing. This special effect brings low-lying atmospheric clouds that last long enough for your first dance, then dissipate quickly. There is no smoke or gas, and because it is a low-lying effect, it will not even reach the ceiling. You two love birds can just enjoy gazing into each other's eyes while you dance in the clouds. 
Having a monogram or logo created for your wedding is a hot trend. Many couples will have this logo or monogram transformed into lighting, projecting it onto the head table, a back wall, front entrance or anywhere they want to create a focal point. Some people might project the logo with a projector, leaving gray edges and shadows. Take heed – you do not want this special effect to look like your seventh grade book report! With Live Events Missouri, Dennis and his team custom cut your monogram or logo onto a steel frame. They then work their magic to place your design via the perfect light in just the right spot. The end result is beautiful, crisp and clean. 
As you well know, a lot of time and money goes into planning every wedding detail. Pin spotting exquisite centerpieces on every table, spotlighting your artful cake or sweetheart table, and adding more drama to the dance floor are all examples of the ways lighting helps ensure your guests notice the most meaningful details. Use your lighting experts to create these beautiful moments, as well as jaw-dropping effects with cloud dancing or cold sparkler fountains and add some Wow! to your wedding.
XOXO Met Wed