We have spoken to the experts for their top recommendations in non-surgical products that will help you get picture perfect before your wedding day. This list has you covered from head to toe! Remember you will want to plan ahead when considering these treatments. We always suggest making a consultation, if recommended, and scheduling ahead to ensure you are getting in at the right time before your wedding day. This timeline is carefully thought out to give you enough time to heal, and enough time for your service to be at peak performance for your wedding day. No matter which one(s) of these you think is right for you, fully committing to a skincare routine using medical-grade products for a year leading up to your date can do wonders to create a healthy glow for your skin!
LET'S COUNT IT DOWN!
9-12 months until the big day
Laser Hair Removal
For silky smooth underarms, legs and bikini area.
Can take 6-8 treatments spaced 6 weeks apart to achieve smooth skin.
6-9 months to go
Nutrafol
Improves hair growth, strength and visible thickness.
It targets the roots and corrects causes of thinning with medical-grade ingredients.
Healthier hair growth typically takes 3-6 months.
Peels
Chemical peels vary in strength and provide a range of benefits, including reduced wrinkles, brighter skin tone,
improved skin texture, and diminished scars and blemishes.
While one treatment is effective, optimal results are achieved with a series of 3 or more peels.
Microneedling
Both microneedling and RF Microneedling encourage the production of new collagen to improve skin tone and texture. Radiofrequency (RF) microneedling targets the deep layers of the skin which enhances skin tightening.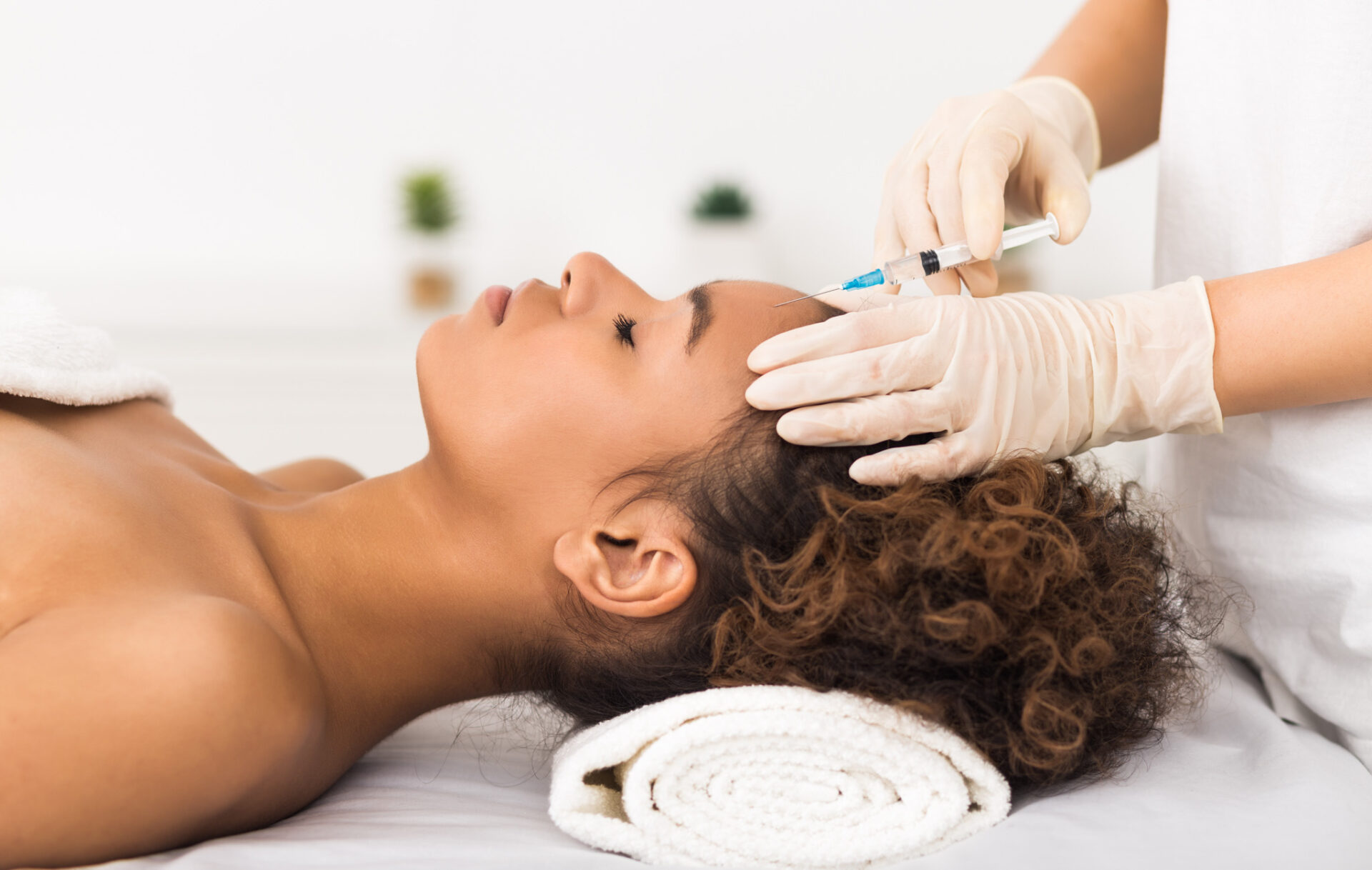 4-6 months before your wedding
Botox
Improves the appearance of frown lines, forehead wrinkles and crow's feet.
If you're new to Botox, plan your first treatment about 6 months in advance
of your wedding to make sure you like the results and have enough time to make any adjustments.
Regular users: 4 weeks prior to wedding, simply because it takes 2 weeks to take effect
and best results are usually 4-6 weeks post injections.
Fillers
Fillers instantly plump lips, restore volume and smooth away deep lines. 
Fillers can last 6 months -2 years
Planning in advance will allow the injector to customize a treatment plan
that will subtly enhance your facial features. Fillers can last 1- 2 years,
side effects can include bruising which goes away after 1- 2 weeks
so we recommend having your injections 2-3 months before your wedding
to ensure that all post-treatment bruising and swelling is gone
and to allow for any touch-ups you may want.
HydraFacial
HydraFacial will leave your skin dewy, glowing and hydrated.
2-3 HydraFacial treatments prior to your wedding will provide
you with a healthy glow on your special day.
Start monthly treatments 3-4 months before your wedding.
Diamond Glow Facial
Next-level skin resurfacing treatment, delivering radiant, rejuvenated, healthy-looking skin.
This advanced facial provides deep exfoliation and extraction to leave your skin lustrous and smooth.
We recommend 1-2 treatments per month to see continued improvement and glowing results. 
Latisse
Latisse is an FDA-approved eyelash growth serum for longer, fuller, darker eyelashes.
Starting Latisse 2-3 months before your wedding gives lashes plenty of time to grow.
2-4 months ahead of time
BodyTone
BodyTone strengthens, sculpts, and tones weak muscles, helping
you build muscle mass. BodyTone delivers approximately 20,000 muscle contractions in a 30 minute session. We recommend 2 treatments per week for 3 weeks, for a total of 6 treatments.
Results 6 -10 weeks after last treatment.
*pro tip – During the final weeks leading up to your wedding day you should avoid trying any new products or treatments. You don't want any adverse side effects or reactions now, so don't start anything new – stick with what works
For more info:
Shah Plastic Surgery
Shahplasticsurgery.com