To all brides who had a wedding planned for this spring; I am sincerely sorry. This is an unprecedented crisis, and we have all had to put our lives on hold, but most of us haven't been planning the biggest day of our life during it! Now we have to postpone and start all over…are you kidding me?
Keep your heads up and think of it this way, you get more time to plan and make sure to get all the details exactly how you want them. Remember, nobody blames you!
Step 1
Stay Positive. It's easy to get discouraged, you've put a lot of time and effort into planning the perfect day and now it's cancelled. It's easy to head down the path of, "Now I have to make so many phone calls…again, and make all those appointments… again. UGHH".
OR, take a deep breath. Remember when you first got engaged? Remember talking and giggling with your mom and friends? Really take a second and try to remember. Go ahead, I'll wait. Do you remember saying "Oh my gosh, we have so much planning to do?"
See, wasn't it fun? It's important to remember that as we move forward.
Now, you already have relationships with a lot of vendors. You've narrowed down the merchants you want, and those you don't. You already know what kind of food you want to serve and which flowers are your favorite. You're not starting over, think of it as a year's worth of experience! Which brings us to step two.
Step 2
Simply, reschedule. The easiest thing to do is to call all your vendors and move everything to a new date. There, done. Now, sit back and have that morning glass of quarantine wine! Whew, that was easy.
This may be the case for some, but unfortunately the majority of couples will never have all the same team available on another date. So, if this is you… please proceed to step three.
Step 3
Prioritize. Try to recreate your wedding day using the most important pieces to you. If you had your heart set on that beautiful ballroom, call them first. If that lamb was so good you thought about starting a new life with the chef, call that caterer. Prioritize and keep the ones that mean the most. This seems obvious, I know, but you're going to have to make some decisions. When planning your original date, I bet you did multiple tastings, or hair and make-up appointments, so you already have a leg up. You are not a poor, helpless bride who has to start all over: No, in fact, you are now a seasoned wedding shopper! Use your knowledge and grab those merchants that were your second choice (or possibly your first choice, maybe they were booked on your date the first time around). And yes, time is of importance. Good thing you already met them huh!?
Step 4
Realize that things may be different for this whole year. Ok, everything up to now has been pretty obvious. Now it's time for some real inside baseball.
As the owner of a catering company I can assure you that food service will be different for at least the rest of this year. Big appetizer assortments and especially gathering boards where all guests are hovering around a table helping themselves seems absurd right now, doesn't it? "You mean, we're all using the same tongs?"
The days of having a local company drop off food, and your guests help themselves to a buffet are simply not an option for a while. This doesn't mean you can't have a great meal without having to take out a second mortgage. It just means that you will have to use a professional food service establishment that specializes in catering. One that has all the necessary equipment, and has a staff trained to serve food and beverages in a safe way.
Traditional receiving lines are also probably not a great idea. Photo booths may look a little different now. The Dollar Dance may have to wait. These are things that are going to have to change. But, it doesn't mean we can't have fun does it? Let's get to the last step.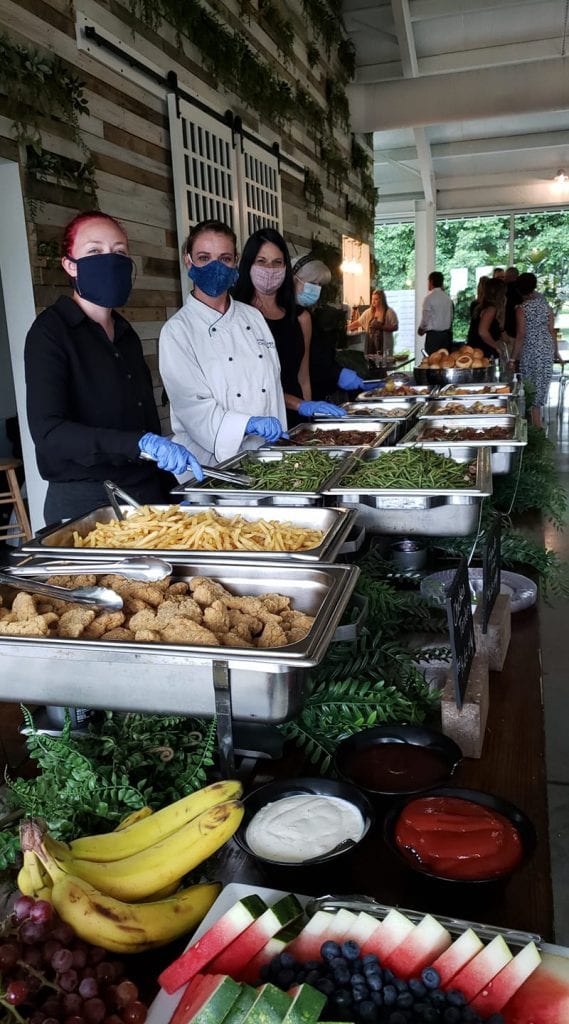 Step 5

Let's stay strong and plan on. So, you can't stand in one place and shake everyone's hand. How about your guests watch in awe as you ride by in a horse-drawn carriage, or golf cart, or tandem bicycle and say hello. Maybe you can't have a picture booth. That doesn't mean you can't put a fake mustache, or funny sunglasses at every seat, have your guests take a photo and use a hashtag for your wedding. Instead of a Dollar Dance where every guest comes and grabs your hand, how about they have to do a signature dance and drop a dollar in the jar. Better yet, guests vote on the best dancer and it's a dollar per vote! Just be creative and lean on the professionals around you, that is what we are here for.
Point is, everything isn't cancelled. Remember to have that same positive outlook as before. Yes, it may look a little different, but you now have more time to plan your perfect day. Did you have a special touch you wish you had time for? Now's the time!
All of us wedding professionals will take care of the details. Our bartenders will remember to change gloves, photographers will try to stay six feet apart, venues will take extra special care to sanitize. Don't sweat the small stuff, that's what we're here for. Your goal is to think of anything that would make your day even better. Reach out to your caterer about a special dish, make an appointment with your DJ to discuss your song list, call your coordinator and florist and make everything perfect!
#staystrongandplanon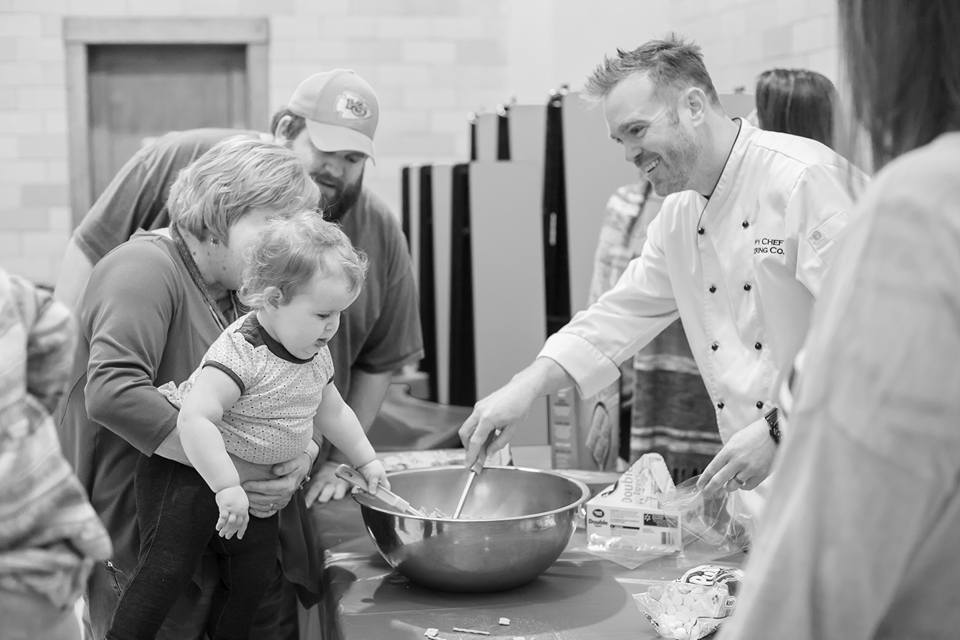 About the Author
Phil Colbert has over 25 years experience in food service. He lives in Ozark with the woman of his dreams and three beautiful children. He started Happy Chef Catering Company 12 years ago and specializes in large corporate events and weddings.
He enjoys mountain biking, plays guitar and coaches his sons' little league teams.
Happychefcatering.com and happy chef catering on facebook. 417-860-7734