Written by | Shalla Bowers
From cake-cutting ceremonies to cocktail hour hors d'oeuvres, food plays a major role on your big day. No one has a good time on an empty stomach, so how do you find a dish that's a hit for everyone on the guest list? We'll make it easy for you: charcuterie! Take a look at how this delectable finger food with endless options can be incorporated into your wedding celebration.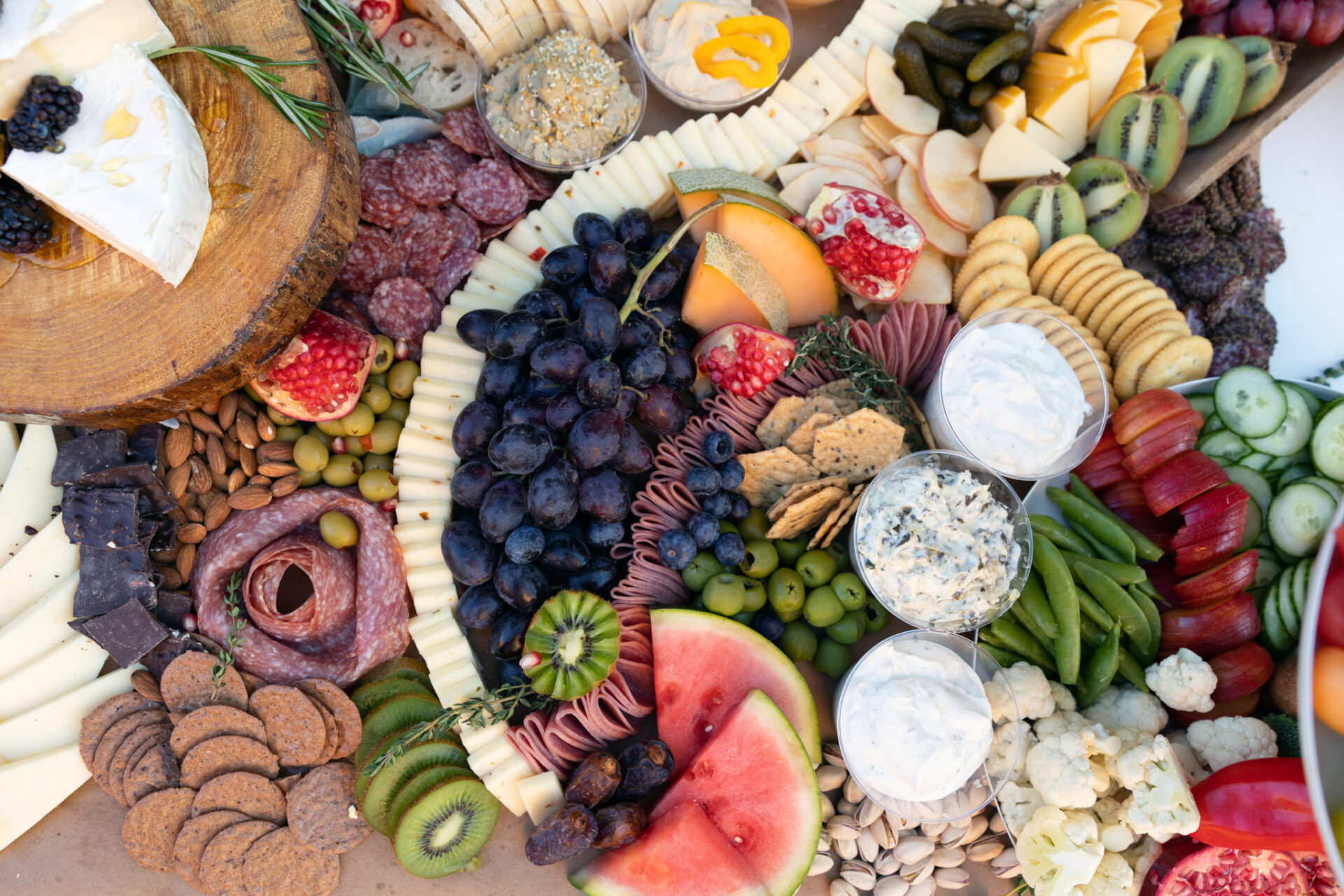 Charcuterie by | Forage Charcuterie
Photography by | Christina Zapata Photography
Rehearsal Dinner
Rehearsal dinners are a chance for the couple to finally breathe again after all of the intricate planning. Decision fatigue is all too real when it comes to wedding prep, so charcuterie boards are a no-brainer when you want a stress-free meal option. Charcuterie is a smorgasbord of flavors with a million different things to choose from. Craving something sweet and salty? Crunch down on some brie and honey on sourdough. Want a more savory bite? Grab some prosciutto, ground mustard, and a hearty cracker. If you want to be a bit more adventurous, try a more unusual food combination like a strawberry, a wheat cracker, and ground mustard. Leave room for creativity, but make sure not to skimp out on the portion sizes when crafting a board. Owner and founder of Simply Delicious, Patty Wingo, explains that a dinner grazing table should have heartier food options to keep every guest full and happy, especially if they've had a cocktail or two. "This type of board needs to be heavier in meats, maybe include small sandwiches so guests feel like they have had a meal," Wingo said. "If guests are drinking, it is crucial to provide them with enough food." With all of the possibilities it brings to the table, charcuterie gives the illusion of an intricately prepared menu. You don't have to let your rehearsal dinner add to your wedding day stress. Opt for a charcuterie board instead.
Cocktail Hour
Let's get this party started! Cocktail hour is traditionally the hour before the reception, perfect for shaking off the nerves from the ceremony and segueing into the rest of the celebration. Hors d'oeuvres to pair with the cocktails or wine are a must, and charcuterie is the perfect choice of an appetizer. Each taste can be brand new! Make your board intentionally with your drink menu in mind. For instance, pairing Chardonnay with soft havarti makes angels sing, but pairing a full-bodied wine with the same cheese would be less pleasant. If wine isn't your cup of tea, there are other food-drink pairings that will make your mouth water. Gin martinis pair wonderfully with olives, and orange slices or cherries are a classic garnish for an Old Fashioned. Just remember that your charcuterie board should be as diverse as your drink menu because every guest will have different tastes.
Dinner Service
Charcuterie can be dressed up or down depending on the occasion and can add some serious flair to a reception dinner. Individual charcuterie boards are not only chic and classy, but are also filling and practical. Co-owner of Forage Charcuterie, Tina Travis, explains that differing tastes and even food allergies are no problem with charcuterie boards. "Charcuterie is completely customizable," Travis said. "If you can dream it, we can likely do it." There's no fighting over the last slice of cheese with individual boards. Each guest can have their own portions with even their own mini jam jars. Or, if you crave a particular cuisine, you can tailor the boards to fit that need. You could create a mediterranean board with olives, hummus, pita, and plenty of raw veggies, or an italian board filled with caprese, prosciutto, and focaccia. With the vast array of variable ingredients, there is sure to be something for everyone with an individual board. You can't go wrong with a meal that can be tailored to anyone's palate!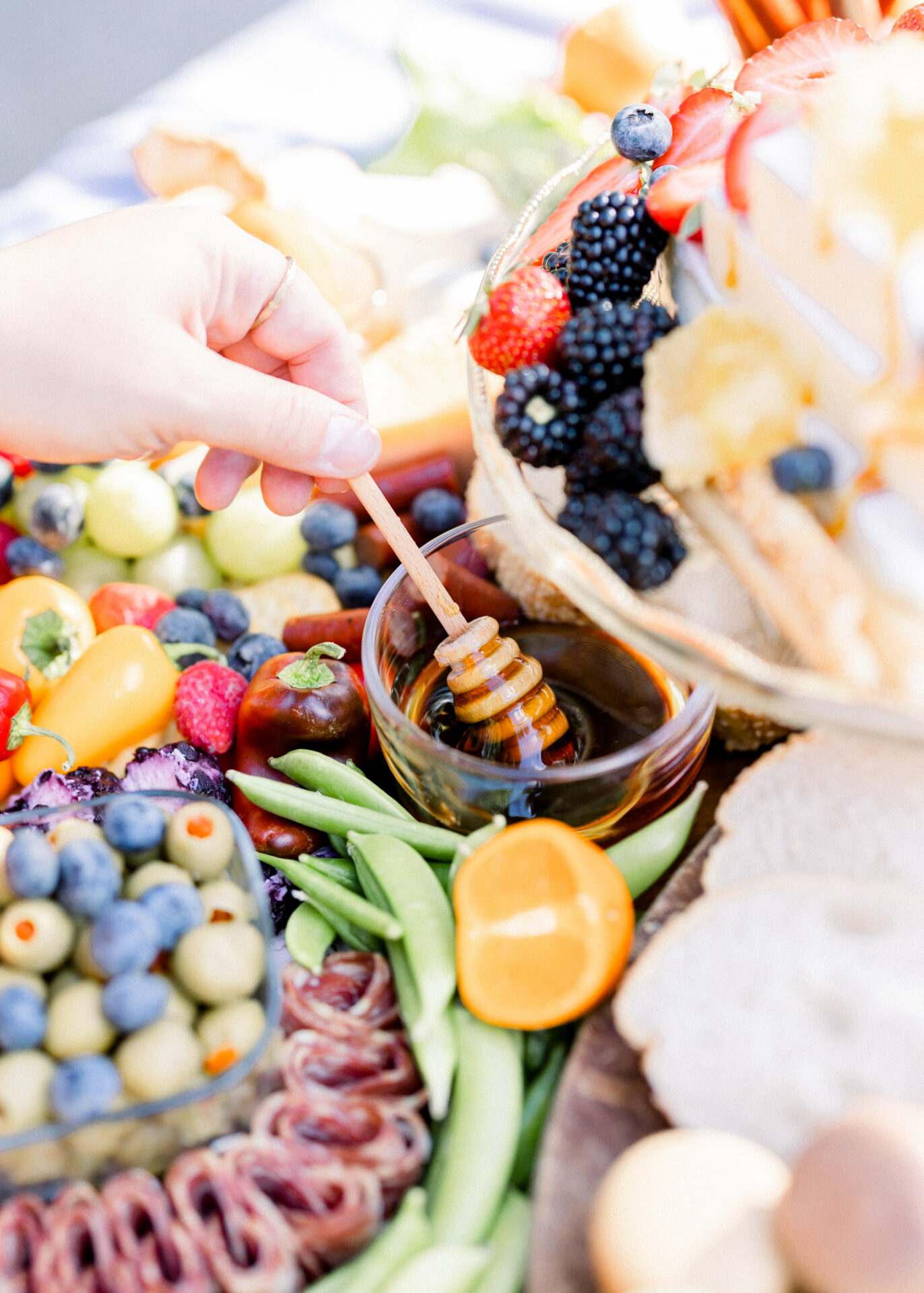 Charcuterie by | Lavish Grazing
Photography by | Shelby Chante Photography
Centerpieces
Floral centerpieces are stunningly elegant but can begin to burn a hole in your wallet when you crunch the numbers. Charcuterie boards can offer an equally beautiful (but more delicious) alternative. This could look like a wooden lazy susan in the center of the table adorned with an array of decadent meats and cheeses, or a faux-floral centerpiece made out of charcuterie skewers. Try rolling your salami into dainty florets, using rosemary as a faux stem. Strawberries can be wonderfully delicious tulips when layered atop a skewer of green grapes. Owner of Lavish Grazing, Kendra Hinkle, explains that the "one-size fits all" standard of charcuterie creation already has one foot out of the door. It's okay to have fun with your charcuterie spread! "Your ideas should be the guide used to create your experience. Regardless of what's 'on trend,' the thing that is most important is you have the experience you desire," Hinkle said. So, if you're torn between a tried and true classic board or a delightfully unique idea like a charcuterie centerpiece, let your worries go and your creativity flow! It's your wedding, and your opinion matters most.
Hot Chocolate Board
While winter weddings may not be in peak wedding season, a prime reason to consider having a winter wonderland wedding is a hot chocolate board! Feel free to deck it out with different chocolate syrups, marshmallow shapes, hot chocolate flavors, and peppermint sticks. You could even combine this unique dessert with the centerpiece idea, creating a mouthwateringly beautiful table decoration that is sure to bring out the sweet tooth in all of your guests.
S'mores Board
What's the only thing better than an ooey-gooey marshmallow? An ooey-gooey marshmallow tucked between a piece of chocolate and two graham crackers. S'mores are a classic childhood dessert for many, so why not bring the nostalgia to your wedding on a charcuterie board? Keep it traditional with graham crackers, marshmallows, and chocolate, or get original and use flavored marshmallows, chocolate graham crackers, and peanut butter cups. Make it interactive with mini fire pit centerpieces so your guests can roast their own marshmallows, and you'll have people talking about your reception dinner for years to come.
With the flexibility of charcuterie, you can have an appetizer, meal, dessert, or centerpiece along with a Pinterest-worthy photo op all in one! The sky's the limit, so don't be afraid to think outside of the box and onto the charcuterie board.
XOXO